News Around the Republic of Mexico
Mexicans Vote Elections Besieged by Drug Violence

Olga R. Rodriguez & Alexandra Olson - Associated Press
go to original
July 04, 2010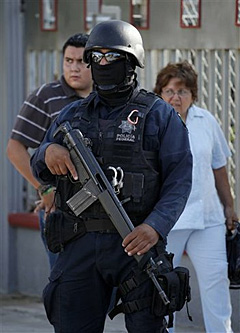 A federal police officer guards a polling station in Ciudad Victoria, in Tamaulipas state, Mexico, Sunday July 4, 2010. (AP/Eduardo Verdugo)
Ciudad Victoria, Mexico — More than a dozen Mexican states held elections Sunday after campaigning besieged by assassinations and scandals that displayed the power of drug cartels and posed the biggest challenge yet to President Felipe Calderon.


With public discontent rising over the violence set off by Calderon's offensive against drug gangs, the opposition party that ruled Mexico for 71 years hoped to capitalize on the frustrations and gain momentum from the votes for governors, mayors and other posts in its bid to regain the presidency in two years.


The first exit polls released by TV Azteca and Televisa said the PRI, which long held on to power through a system of largess and corruption that many considered a quasi-dictatorship, won governship races in eight states.


Those included the border state of Tamaulipas, where PRI candidate Rodolfo Torre was killed Monday by suspected drug cartel gunmen. His brother, Egidio, was picked to run in his place.


But the Azteca poll pointed to a PRI loss in Puebla and both polls indicated a PRI defeat in Oaxaca, two of several states where Calderon's conservative National Action Party formed alliances with leftist parties in an effort to thwart PRI's resurgence.


PRI and PAN leaders both claimed victory in Oaxaca, raising the possibility of unrest in a highly volatile state where a five-month uprising erupted in 2006 over allegations that outgoing Gov. Ulises Ruiz stole his election victory. The PRI has governed Oaxaca for 80 years.


"This theater is for them to say ... that we commited fraud," said PRI official Carlos Jimenez. "This is part of a strategy. They know they lost."


According to the Azteca poll, alliance candidate Gabino Cue won 54 percent of the vote, compared to 40 percent for PRI candidate Eviel Perez. The Televisa poll had Cue winning with 53 percent and Perez garnering 45 percent.


In Tamaulipas, the PRI, held up Torre's assassination as evidence Calderon has failed to bring security despite the presence of tens of thousands of troops in drug trafficking hot spots.


PAN Leaders, in turn, insinuated the PRI protects drug traffickers in Tamaulipas, the birthplace of the Gulf cartel, and in the northern state of Sinaloa, the cradle of the cartel by the same name.


A new scandal enveloped outgoing Tamaulipas Gov. Eugenio Hernandez: On Sunday, federal prosecutors said they were questioning one of his bodyguards, Ismael Ortega Galicia, after the newspaper Reforma reported that the U.S. Treasury Department has listed him as a key member of the Gulf or Zeta drug gangs. The former allies split this year and are fighting for turf in Tamaulipas.


Tamaulipas Public Safety director Jose Soberon said Mexican federal prosecutors had previously investigated Ortega and found no evidence against him. Officials at the federal Attorney General's Office said they had no immediate information on that claim.


Soberon also said Ortega had traveled to the U.S. several times with the governor and had never been detained, despite the U.S. Treasury Department listing.


Rodolfo Torre, the governor's hand-picked successor, was killed when gunmen ambushed his campaign caravan in Ciudad Victoria, the state capital. The day before, he had pledged to make security a priority, and supporters say that may have been what got him killed.


His brother Egidio claimed victory, saying "the best way to honor my brother will be to give my best effort to achieve the Tamaulipas we all want." Earlier, he voted at an elementary school in Ciuadad Victoria wearing a bulletproof vest and escorted by federal police in two trucks.


Fear discouraged many people from voting in a state where extorsion and abductions are rampant and armed men openly drive on highways with the acronym of the Gulf cartel stamped on their SUVs.


Dozens of poll workers quit in fear over the past week. One man, an orange farmer, said his brother-in-law was kidnapped early Sunday before he was to preside over a voting station in a village outside Ciudad Victoria.


"We still don't know if he was kidnapped because of the elections or because they will ask for money," said the farmer, who asked not be quoted by name out of fear for his own safety. "Here the goverment is part of the problem."


Voting lines also were short in Ciudad Juarez, a city across the border from El Paso, Texas, that has become one of the deadliest places in the world.


"Maybe people are scared and that's why they haven't come out to vote," said Arturo Gonzalez, presiding over one nearly empty voting center in the city.


One elderly woman said she decided to vote at the last minute. "We saw on the television that everything was calm so we came quickly but we're leaving now," she said, refusing to give her name as she hurried home.


Former Ciudad Juarez Mayor Hector Murguia of the PRI was expected to win a new term despite facing allegations of drug ties ever since the director of police operations in his first administration was sentenced in 2008 to prison in Texas for facilitating marijuana smuggling. Murguia denies any links to organized crime.


Four bodies were hung early Sunday from bridges in Chihuahua city, the capital of the state that includes Ciudad Juarez. Police took them down before daybreak. Later, police found the bullet-ridden bodies of six people on a highway outside the city.


In the resort city of Cancun, voters passed by banners reminding them of a scandal that shook the race for governor of Quintana Roo state: Gregorio Sanchez, candidate for the leftist Democratic Revolutionary Party, was arrested last month for allegedly protecting two drug cartels as mayor of Cancun, allegations he has dimissed as politically motivated.


The banners read: "Greg's Cartel. Enough of criminals in government." They included photographs of Sanchez and candidates for other positions in the state.


"This is why people aren't coming out to vote," said Moises Cruz, 35, a restaurant employee who cast his ballot in an elementary school where about two dozen people were voting. "I have a neighbor who said he wasn't voting because there was no sense in it."


The PAN also formed alliances in the hopes of ousting the PRI from its longtime bastion in Sinaloa.


The PRI gubernatorial candidate, Jesus Vizcarra, long faced allegations of ties to the cartel led by Joaquin "El Chapo" Guzman, Mexico's most-wanted drug lord.


Reforma recently published a photograph of Vizcarra attending a party many years ago with El Chapo's second-in-command, Ismael "El Mayo" Zambada. Vizcarra, the mayor of state capital Culiacan and a distant relative of slain drug trafficker Ines Calderon, has dodged questions about whether Zambada is the godfather of one of his children.

Associated Press writer Olga R. Rodriguez reported this story from Ciudad Victoria and Alexandra Olson from Mexico City. AP writers Olivia Torres in Ciudad Juarez, Emilio Lopez in Hidalgo and Gabriel Alcocer in Cancun contributed to this report.
Tell a Friend
•
Site Map
•
Print this Page
•
Email Us
•
Top