News Around the Republic of Mexico
Hurricane Alex Adds to Mexico's Economic Woes

Xinhua
go to original
July 14, 2010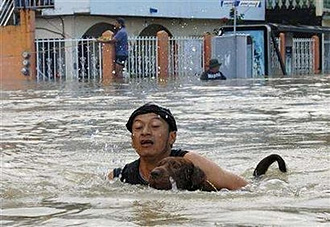 BOXTEXT
Hurricane Alex, which hit three northern Mexican states two weeks ago, will reduce the industrial output and raise inflation in the Latin American nation, economists said.


The natural disaster, however, is not going to lead to a financial crisis, because the government has a long-standing budget for natural disasters, the economists told Xinhua.


Hurricane Alex struck Tamaulipas State, which borders the United States, on Mexico's Gulf coast, on June 30 as a category 2 storm. According to state government figures, the storm killed six people there and as of Tuesday, 650,000 people had been left without drinking water and 350,000 others without access to normal communication.


However, the storm dumped most of its rains on Nuevo Leon State, where ensuing floods killed 17 people. By last weekend, when President Felipe Calderon visited Nuevo Leon's capital Monterrey, 140,000 people were left without food and water in that city alone. Coahuila, on the downstream of Nuevo Leon, was the third worst-hit Mexican state.


The storm killed a total of 27 people across Mexico and 10 people in Nicaragua, Guatemala and El Salvador, which were in the storm's path to Mexico.


While the hurricane has long since dissipated, the water it brought onshore has been a major problem.


The National Water Commission, a unit of the Environment Ministry that maintains the nation's water resources, opened floodgates on dams in the affected regions to protect them from worse damage. Doing so caused river banks to burst on the Rio Salado and the Rio Grande, which marks Mexico's border with the United States.


"It has been a very long time since a hurricane hit a major industrial city in Mexico," said Louis Flores, chief economist at Ixe Bank in Mexico City. "This is going to be reflected in the July industrial production."


On July 5, the first working day after the hurricane, 25,000 people did not show up for work, according to business groups. Flores said that the worst of this lasted around a week.


The region's electricity hadn't been fully restored till Monday, according to the Federal Electricity Commission (CFE), Mexico's state-run energy firm, the only supplier of electricity in the nation.


The CFE had to cut power supply to large sections of the Coahuila, Tamaulipas and Nuevo Leon states to avoid accidents and deaths that are likely when water and electricity come together.


The lack of electricity had knock-on effects on Chihuahua, a state on the U.S. border to the west of Nuevo Leon, and Durango, its neighbor to the south, both of which get most of their fuel from trucks that come in from Nuevo Leon.


Truck drivers who deliver fuel for state-run energy giant Petroleos Mexicanos (Pemex), the only firm allowed to refine and distribute fuel in Mexico, said that Pemex's pumps had failed as power lines went down in Nuevo Leon. As a result they have been unable to provide diesel and petrol for neighboring states. It is not clear if the pipelines themselves have been damaged.


"There will be an inflation impact," said Alfredo Coutino, a Latin America economist at Moody's Economy.com. "Destruction of agricultural production and supply shortages will be reflected in consumer prices."


On Tuesday, Tamaulipas Governor Eugenio Hernandez said that a total of 12,000 hectares of corn had been destroyed.


Corn is the source of Mexican food staple - the tortilla. Shortage or rising prices of the food has triggered mass demonstrations on more than one occasion.


Food may also be short due to transport collapses. In Nuevo Laredo, a city in Tamaulipas that borders U.S. city Laredo, local hypermarket Soriana has begun limiting the amount of food each customer can buy due to the closure of its main supply route, the highway linking Nuevo Laredo to Monterrey. Buyers there can each get no more than five kilograms of chicken, fruit and vegetables.


One extreme example of such shortages was reported by local broadcaster Formato 21 on July 4, five days after the hurricane strike. Traders were selling a 19-liter water bottle at 150 pesos (11.7 U.S. dollars), around 3.5 times the normal price, after supermarkets and corner stores suffered a panic buying spree at the weekend that targeted drinking water.


The Mexican government had responded by sending President Calderon, Secretary of the Interior Fernando Gomez Mont and other senior officials to the region.


On July 6, Calderon flew over Anahuac, a town on Nuevo Leon's border with the United States that was under water at the time. Standing at the scene of the disaster, the president promised to speed the transfer of government funds from the Natural Disaster Fund (Fonden), triggering a debate in the nation's legislature that streamlined payouts.


Separately, Finance Minister Ernesto Cordero promised on Monday that Mexico would have enough in the Fonden to pay for repairs.


Once the money comes through, there may even be an economic boost for the area, said the economist Flores, adding that "there could even be an increase of local jobs, which will go some way to helping the recovery."


Risks remain high, however, not least from disease.


Last week, Miguel Angel Lezama Fernandez, who leads the nation's National Prevention Programs and Disease Control Center, told broadcasters that flooding that has ravaged much of Mexico makes a major dengue fever outbreak increasingly likely.


Dengue fever was carried by the Aedes aegypti mosquito that breeds in stagnant water, which is now everywhere in the most affected states. There is no known cure for dengue, which causes severe pain in bones, muscles and joints, as well as headaches, fever and rash.

Tell a Friend
•
Site Map
•
Print this Page
•
Email Us
•
Top