News Around the Republic of Mexico
Mexico's Misunderstood War

PRI.org
go to original
July 08, 2010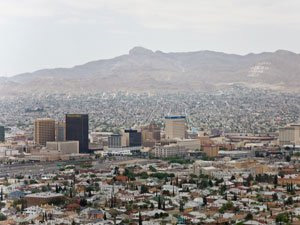 Juarez and El Paso (Flickr/charlie llewellin)
This story was originally reported by PRI's Here and Now. For more, listen to the audio above.
Juarez, Mexico, has become one of the world's most violent cities. Though it's adjacent to the United States, many are struggling to understand the violence.


As of July 5, 1,433 people were murdered in Juarez this year, according to Molly Molloy, a librarian at New Mexico State University. That makes 5810 people murdered since January of 2008, though few are keeping track of the dead.


"Everyone involved in this is overwhelmed," Molloy told PRI's Here and Now. The Mexican authorities have trouble keeping track of the murders, and the English-language press tends to underestimate. So Molloy has taken it upon her self to document the number of murders in Juarez.


In Mexico, it's routinely difficult to get information about investigations and crimes. So underestimations should come as no surprise. According to Molloy, "The main thing that is unusual about it in the last 3 years is the quantity - the overwhelming number of people being killed."


"The thing you have to know about Juarez, is that contrary to some theories, the violence has no real center," Charles Bowden told PRI's The Takeaway. "No one is really in control." Bowden, the author of "Murder City: Ciudad Juarez and the Global Economy's New Killing Fields, points out that there are 500 to 900 street gangs, 2 cartels fighting, the Mexican army, state police, federal police and local police. And they're all killing people.


Juarez represents "the poster child of the global economy," according to Bowden. What's happening in Juarez is the direct result of economic policies instituted by the US and Mexican governments. At this point, he says:


"Everybody in Juarez is at risk. Most people in Juarez are not killers, but everyone is prey. And I'll tell you why: There's no protection. Government is broken down. Nobody calls the police unless they want to get robbed. At least 100,000 factory jobs have been lost, 116,000 houses have been abandoned, at least 100,000 people have fled the city, 30-60,000 to El Paso. This is a city where you don't go out at night. Where if you get in trouble, there's no one to call. This is like out of some futuristic novel, except actual and it's now."


And yet, it's difficult to make people pay attention. "These policies in Juarez only matter, and you're only speaking of it, because it abuts the U.S. border, because we can see it," Charles Bowden told PRI's The Takeaway. If it weren't so close, people simply wouldn't be paying attention.


People should be paying attention, though, according to Molloy. She told Here and Now:


"Unless we confront the actual truth as much as we possibly can - as to what is going on there and what is behind this violence - there's no possible way us to contribute to a possible solution."

"Here and Now" is an essential midday news magazine for those who want the latest news and expanded conversation on today's hot-button topics: public affairs, foreign policy,science and technology, the arts and more. More "Here and Now"
Tell a Friend
•
Site Map
•
Print this Page
•
Email Us
•
Top