News Around the Republic of Mexico
Mexican Voters Send Mixed Messages

Ken Ellingwood - Los Angeles Times
go to original
July 06, 2010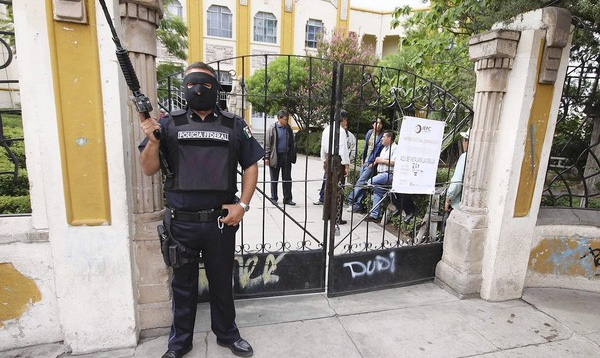 A federal policeman stands guard outside a polling station in Durango, Mexico, where gunmen stole ballot boxes during local elections Sunday. (Jorge Valenzuela/Reuters)
The PRI is on track to lose its hold on three governorships but win three new ones. Meanwhile, PAN-led alliances pull off upsets in Oaxaca, Puebla and Sinaloa.

Mexico City — Political parties across the spectrum looked for ways to claim bragging rights Monday after gubernatorial elections in a dozen states yielded surprises but no clear overall victor.


With results still being tallied, the outcome so far offered something of a boost to President Felipe Calderon, whose conservative party avoided an embarrassing sweep by joining with leftist parties in several key states.


Those oil-and-water alliances stunned the surging Institutional Revolutionary Party, or PRI, in two states it has long ruled: Oaxaca and Puebla. Another left-right coalition was poised for victory in Sinaloa state, where PRI candidate Jesus Vizcarra led preelection polls in spite of allegations of links to drug traffickers.


Get dispatches from Times correspondents around the globe delivered to your inbox with our daily World newsletter. Sign up »


But the PRI, which ruled Mexico until it lost the presidency in 2000, could also claim signs of a continued comeback. According to nearly complete results, it kept governorships in six states and captured three new ones, including two that were held by Calderon's National Action Party, or PAN.


If those results hold, the PRI would end up with nine of the 12 governorships up for grabs Sunday — the same number it had going in.


In addition, a PRI candidate in Ciudad Juarez overcame accusations of drug ties to win the mayor's seat, and the party won every municipal election in the states of Baja California and Aguascalientes.


The PRI, which ruled with a mix of corruption and authoritarianism, says it has learned from its mistakes. It wants to recapture the presidency in 2012. It dominated midterm elections last year.


Political analysts said Sunday's results reflected varying local conditions and personalities, and probably carried no overarching national message. Voters in 14 states went to the polls to fill hundreds of state and municipal offices.


Calderon may be buoyed by taking three states from the PRI, but he presides over a wobbly economy and a controversial drug war that has left 23,000 people dead since 2006. The PAN lost every statewide contest in which it ran alone.


"It leaves everybody in pretty much the same place," said Daniel Lund, a Mexico City-based pollster and analyst. "The PAN is a weak government. They found a way not to be completely humiliated in this election."


PAN officials touted the success of alliances with the leftist Democratic Revolution Party, or PRD, in beating the PRI in states where it was thought to have a lock.


"Everyone was saying it was nearly impossible to have a change of party, but now a new history has begun after years of authoritarianism and very little transparency," said Josefina Vazquez Mota, who leads the PAN delegation in Congress. "The people expressed themselves and they demanded change."


But it's not that simple.


In the Puebla and Sinaloa gubernatorial races, the PAN-PRD coalition candidates had made their names as members of the PRI, but left the party after failing to win the PRI nod for governor this year. In Oaxaca, the coalition candidate, Gabino Cue, split from the PRI years earlier and ran unsuccessfully as an opposition candidate in 2004.


Current governors in all three of those states were widely regarded as presiding over administrations that were corrupt, dictatorial or ineffective.


It remains to be seen how governors representing parties with opposing views can rule. Many PRD members still refuse to recognize Calderon as president, four years after his disputed election.


Cesar Nava, the PAN's president, said Monday that the two parties would consider fielding joint candidates in elections next year. The PRD is weak from internal fighting and faces long odds on its own.


The biggest prize in 2011 will be the central state of Mexico, a PRI bastion where foes hope a victory can trip up the current governor, Enrique Pena Nieto, who is the front-runner for president in 2012.


Although the PRI may have suffered dramatic losses Sunday, all three main parties were stung by voter wrath in states where current governors failed to measure up.


"Mexico remains an imperfect democracy, but there do appear to be some mechanisms of accountability at work that allowed these elections to be meaningful referenda on local political performance," said Andrew Selee, director of the Mexico Institute at the Woodrow Wilson Center in Washington.

ken.ellingwood(at)latimes.com


Times staff writer Tracy Wilkinson contributed to this report.
Tell a Friend
•
Site Map
•
Print this Page
•
Email Us
•
Top