News Around the Republic of Mexico
Mexico Will Be Better Off with Better Trained Students: Calderón

Suzanne Stephens Waller - Presidencia de la República
go to original
July 20, 2010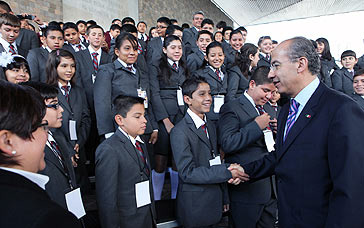 (Presidencia de la República)
Mexico City - During the prize-giving ceremony for the Bicentennial/Centennial Children's Knowledge Olympiad, President Felipe Calderón urged students not to let down their guard or to stop but to study hard to maintain their good grades.


"We not only want you to succeed as people but also as new Mexicans, because we all want a better Mexico, which is why we also need a Mexico with better education and quality for our children.


And this is a crucial task for everyone, for Federal Government and also for state and municipal governments, society and parents," he said.


In the Patio del Paraguas, in the Anthropology Museum,, accompanied by his wife Margarita Zavala, the President declared that children will be given a monthly grant of a thousand pesos to continue their junior high school education.


"I am sure that this economic incentive will encourage them to work and study very hard and to achieve further success in the future.


Moreover, as part of your prize, the Public Education Secretariat has prepared this magnificent Bicentennial-Centennial Culturaal Celebration 2010, with a series of activities that you will greatly enjoy and I am sure that you will not only learn but also enjoy yourself at the same time," he said.


The President added that work is being done to ensure that in the states affected by Hurricane Alex, schools will be able to receive students so that they will be able to continue studying.


"Children, parents and teachers, I would like to make a special comment. Today, together with the state governments of the areas affected by Hurricane Alex, we are working to repair the schools that were damaged, because we want to guarantee parents, teachers and students in the northeast of the country, in the states of Nuevo León, Coahuila and Tamaulipas that we will have decent schools for your children by the start of the next school year in August," he said.


President Calderón urged them to encourage their classmates to make a daily effort, since school is the best way to progress, he said, "Because the greatest success you can have in life is to know more in order to be a better person; to learn more and know more in order to have a fuller life."


"And I assure you that as you learn and find out more things, you will be more successful in your work when you have to work; you will be more successful in your families as parents, children and siblings. And above all, Mexico will be better off since it will have a growing number of better qualified citizens," he declared.

Tell a Friend
•
Site Map
•
Print this Page
•
Email Us
•
Top