News Around the Republic of Mexico
Mexico Drug Boss Death Could Spark Power Struggle

Robin Emmott - Reuters
go to original
July 30, 2010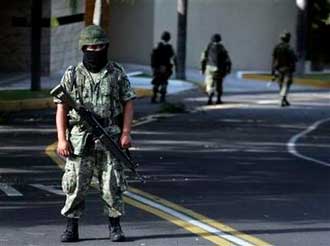 Mexican soldiers stand guard on a street in Guadalajara City, Mexico July 29, 2010. (Reuters/Alejandro Acosta)
Monterrey – Mexico's killing of a top drug trafficker is a coup for President Felipe Calderon, but it may result in a spike in violence and is unlikely to lead authorities to the country's most wanted drug boss.


"Given the increase in violence from other drug bosses captured or executed, it's probable that the strike on Ignacio Coronel will provoke shocks, above all throughout Guadalajara," leading newspaper La Jornada wrote in an editorial on Friday.


Mexican authorities touted the raid in the western city of Guadalajara on Thursday, when over 100 soldiers burst in on Ignacio "Nacho" Coronel and shot him as he tried to escape, as a major victory in Calderon's war against cartels.


Coronel was a top lieutenant to Joaquin "Shorty" Guzman, the most wanted man in Mexico and the leader of the powerful Sinaloa cartel, which controls major drug smuggling routes along the Pacific into the United States.


The U.S. Drug Enforcement Administration praised Calderon, saying Coronel's death was "a crippling blow to that organization's ability to function."


Yet the killing raises questions about whether a vacuum near the top of the highly organized Sinaloa cartel could spark a fresh bout of violence in Guadalajara and Jalisco state, until now a relatively quiet spot in the drug war.


More than 26,000 people have died in drug violence since Calderon launched his drug war in late 2006. The bloodshed has become a growing worry for the administration of U.S. President Barack Obama, global investors and foreign tourists.


In the past, violence has followed arrests or deaths of drug leaders, like in 2004, when heavy fighting broke out as Guzman struggled to take over smuggling routes made vulnerable by the arrest of Osiel Cardenas, head of the Gulf Cartel.


Bloodshed has jumped since the start of this year in Mexico's Acapulco beach resort as part of a leadership battle following the killing of drug lord Arturo Beltran Leyva by Mexican special forces in December.


"The glow ... is likely to be short-lived. As the Sinaloa Federation scrambles to regroup, other organizations will undoubtedly seek to challenge its dominance in the region, such as the Beltran Leyva organization and Los Zetas," U.S. security consultancy Stratfor said in a report on Friday.


"This could well lead to another spike in violence."


THE BIG FISH


The arrest is unlikely to bring Mexican authorities straight to Guzman, the ultimate prize.


DEA and drug trade experts played down the chances of immediately catching Guzman, who has launched a brutal campaign to dominate the multibillion dollar drug trade.


At just 5 feet tall, Guzman is Mexico's most famous kingpin in decades. Forbes Magazine put him on their list of the world's richest people in 2009, with an estimated fortune of $1 billion. He may actually be much richer.


"These cartels are very compartmentalized, Coronel's seniority doesn't mean he was answering to Guzman or any one person, he was calling the shots on a day-to-day basis," said DEA Special Agent Michael Sanders in Washington.


One local expert on the Sinaloa cartel said Coronel had distanced himself from Guzman over the past year amid disagreements over Guzman's territorial ambitions.


"The alliance was still intact but the cartel is not going to collapse with the killing of one of its generals," said the expert, who asked not to be identified.


(Additional reporting by Michael O'Boyle in Mexico City; editing by Missy Ryan and Anthony Boadle)

Tell a Friend
•
Site Map
•
Print this Page
•
Email Us
•
Top