News Around the Republic of Mexico
Mexico Pulling Through: President Felipe Calderón

Suzanne Stephens Waller - Presidencia de la República
go to original
July 30, 2010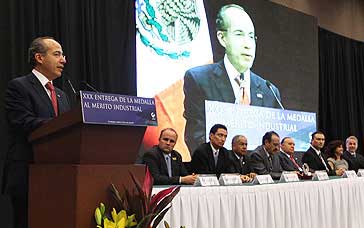 President Felipe Calderón awards Industrial Merit Prize 2010 in Guadalajara. (Presidencia de la República)
Guadalajara, Jalisco - President Felipe Calderón declared that Mexico is emerging from the effects of the world economic crisis, thanks to businessmen that are committed to the country.


On a tour of the state of Jalisco, during the awarding the Industrial Merit Medal 2010 to Juan Francisco Beckmann Vidal, the President said that Federal Government has redoubled its efforts to enable the poorest of Mexico to overcome this condition before 2030.


"By then, we will have a Mexico in which every Mexico will have access to a doctor, medicine and hospital treatment when he needs it. And I am proud to say that this goal, which is part of a long-term project, is a goal which, thanks to the work of all Mexicans, we will achieve, probably before the year 2012. In other words, before the end of the administration of both Governor González Márquez and myself," he said.


Accompanied by his wife Margarita Zavala and State Governor Emilio González Márquez, the President said that the Mexican economy is recovering from the difficult moment it experienced last year.


Proof of this, he said, are the expectations of growth for the country, since the International Monetary Fund estimates that it will grow by 4.2% this year.


And one very encouraging piece of information, perhaps the most important of all, is that the first half of the year, the period from January to June, disregarding resignations and layoffs, saw the creation in net terms of over 500,000 new jobs registered with the Social Security Institute, in other words, half a million jobs in half a year. This is an extremely important figure for Mexico's development," he added.


President Calderón added that his administration will continue to support the state of Jalisco and work to reinforce the rule of law, until it achieves the stability and tranquility of all of Jalisco's residents.


"We will continue working, because only legality will be able to consolidate the country's productive investment and job creation.


That is why we will also continue to fight the crime affecting our societies and communities. We are going to increase this effort, not only by fighting the most violent expressions of organized crime but by fighting illegality which as Juan said, considerably reduces the productive efforts of those that live by the law.


"This includes illegality in the introduction, manufacturing and illegal trafficking of merchandise, which I know is an issue of concern and one on which we will continue to work intensely to protect the country's formal sector," he said.


He urged businessmen to become more involved and to confirm their commitment to development and the construction of a strong Mexico.


"Now is the time to redouble our efforts in Mexico and to continue building a strong Mexico. Mexico requires the efforts of all of us to increase its strength on a daily basis. It is our responsibility to ensure that our economic recovery now translates clearly into something significant in Mexicans' pockets," he said.

Tell a Friend
•
Site Map
•
Print this Page
•
Email Us
•
Top