News Around the Republic of Mexico
New Storm Heads For Swamped Texas-Mexico Border

Associated Press
go to original
July 08, 2010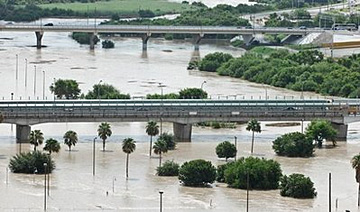 Looking west from the round Rio Grande Plaza Hotel on the riverbanks in downtown Laredo, Texas, the rapidly rising Rio Grande was near the bottom of International Bridge I, in the foreground, on Wednesday, July 7, 2010. (AP/Laredo Morning Times/Ulysses S. Romero)
Nuevo Laredo, Mexico - A rain-packed tropical depression neared a midday collision with the Texas-Mexico border region on Thursday, a new threat to cities already struggling with floods along the Rio Grande and its tributaries.


Police in Laredo, Texas, were evacuating people in low-lying areas as the rain-swollen Rio Grande rose to more than 30 feet (9 meters) above flood stage and forced closure of at least two bridges linking Mexico and the U.S.


Tens of thousands of people already had been forced from their homes in Mexican towns as officials dumped torrents of water into flood-swollen rivers to avoid the risk of dams overflowing out of control due to last week's Hurricane Alex and its aftermath.


Humberto Moreira, the governor of the border state of Coahuila, said that more than 20,000 homes had been flooded in his state alone, and about 80,000 people had "lost all of their furniture."


The U.S. National Hurricane Center in Miami said a new tropical depression was likely to blow in from the Gulf of Mexico around midday in extreme southern Texas and northeastern Mexico. It could bring another 4 to 8 inches (10 to 20 centimeters) of rain.


A tropical storm warning was in effect for the Texas coast south of Baffin Bay and for Mexico north of the San Fernando River.


Hurricane Alex, unusually water-heavy, devastated the major Mexican city of Monterrey, and more than 100,000 people were still without water service this week. At least 12 people died in the flooding, according to Nuevo Leon state officials.


The hurricane's remnants caused rivers to rise across the area, forcing evacuations in Del Rio, Texas, some 110 miles (180 kilometers) upstream from Laredo, as well as in the Mexican state of Coahuila.


To the southeast, officials in the Mexican state of Nuevo Leon evacuated nearly 18,000 people from houses in Ciudad Anahuac for fear that water would overflow the Venustiano Carranza dam and threaten lives. Water was still rising in the town on Thursday.


An airplane on an inspection tour of the flood zone crashed Wednesday, killing the mayor of the border town of Piedras Negras, the state public works director, a municipal civil defense official, a government photographer and the pilot and co-pilot.


Water behind the binational Amistad Dam on the Rio Grande already was at its highest level since 1974, according to the International Boundary and Water Commission, forcing officials to release water from it at the fastest rate in a quarter century.


The commission said the downstream Falcon dam would probably reach capacity within the next few days, suggesting future releases there will raise water levels along the river's lower reaches.


Much of that downstream area is protected against flooding by levees, but Mexico's National Water Commission said it was worried about low-lying settlements, most built by poor people without official permission.

Associated Press writer Oscar Villalba in Piedras Negras, Mexico, contributed to this report.
Tell a Friend
•
Site Map
•
Print this Page
•
Email Us
•
Top