News Around the Republic of Mexico
World Bank to Lend 800 Million Dollars to Mexico

Agence France-Presse
go to original
July 22, 2010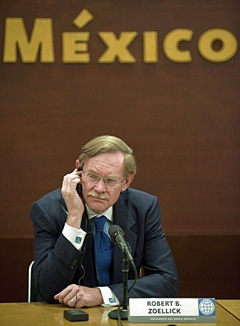 World Bank President Robert Zoellick praised praised economic recovery in Mexico. (Agence France-Presse)
Mexico City — The World Bank will lend 800 million dollars to Mexico to help transform public transport to reduce emissions, and other programs, the bank's President Robert Zoellick said.


The loans include 450 million dollars for social, water and infrastructure programs, said Mexican Treasury Secretary Ernesto Cordero during a joint news conference in Mexico City on Wednesday.


Another 350 dollars, including 200 million from the Clean Technology Fund, a climate investment fund, would support the modernization of public transport across Mexico to reduce emissions and expand services, Cordero said.


Zoellick pointed to Mexico City's widely-lauded Metrobus system of rapid buses on dedicated lanes as an example of efforts already being made toward improving the environment here.


"I think that climate change is too important to wait for one formal accord," Zoellick said, ahead of the December UN climate summit in Cancun, which follows last year's Copenhagen meeting seen by many as a failure.


"I prefer to look at this (climate change) as an area where we need to try to make progress where we can, when we can."


Zoellick, who earlier this week took part in a Central American summit in El Salvador, also praised economic recovery in Mexico, where growth is predicted to rebound to 4.5 percent this year, after the economy shrunk 6.6 percent in 2009.


He repeated his message from Central America about the importance of involving the private sector in efforts to boost growth.


"If you reduce the costs of doing business, if you make it easier to start a business, if you make it easier for people to get credit, you can also create the basis for growth," Zoellick said.


The World Bank chief was due to meet with university students in Mexico City on Thursday.

Tell a Friend
•
Site Map
•
Print this Page
•
Email Us
•
Top