Technology News
India Develops World's Cheapest "Laptop" at $35

Reuters
go to original
July 24, 2010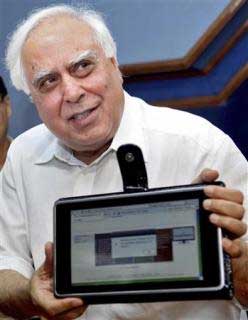 India's Human Resource Development Minister Kapil Sibal displays the low-cost computing device during its unveiling in New Delhi, July 22, 2010. (Reuters/Stringer)
New Delhi - India has come up with the world's cheapest "laptop," a touch-screen computing device that costs $35.


India's Human Resource Development Minister Kapil Sibal this week unveiled the low-cost computing device that is designed for students, saying his department had started talks with global manufacturers to start mass production.


"We have reached a (developmental) stage that today, the motherboard, its chip, the processing, connectivity, all of them cumulatively cost around $35, including memory, display, everything," he told a news conference.


He said the touchscreen gadget was packed with Internet browsers, PDF reader and video conferencing facilities but its hardware was created with sufficient flexibility to incorporate new components according to user requirement.


Sibal said the Linux based computing device was expected to be introduced to higher education institutions from 2011 but the aim was to drop the price further to $20 and ultimately to $10.


The device was developed by research teams at India's premier technological institutes, the Indian Institute of Technology and the Indian Institute of Science.


India spends about three percent of its annual budget on school education and has improved its literacy rates to over 64 percent of its 1.2 billion population but studies have shown many students can barely read or write and most state-run schools have inadequate facilities.


(Reporting by Reuters Television, Editing by Belinda Goldsmith)

Tell a Friend
•
Site Map
•
Print this Page
•
Email Us
•
Top