Technology News
Learning a Language From an Expert, on the Web

Peter Wayner - New York Times
go to original
July 30, 2010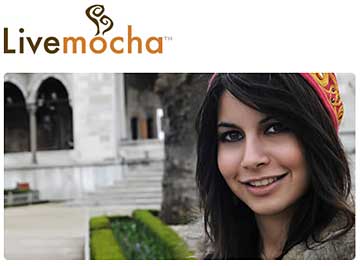 Livemocha, a Seattle company with $14 million in venture capital financing, mixes a social network with lessons for more than 38 of the world's more common languages.
The message from the 14-year-old Tunisian skateboarder was curt. "Totally wrong," he said of my French. My conjugation was off and I should study spelling. On a scale of one to five, he said, my French practice essay was worth a one. Then he disappeared into the anonymity of the Internet.


If there is any truth to the old Russian proverb that enemies parrot yes while friends say no, then it is easy to form fast friendships on Livemocha.com, a Web site devoted to helping people learn languages by swapping messages over the Internet and then correcting each other's messages.


As my young Tunisian tutor was showing me, the Internet, with its unparalleled ability to connect people throughout the world, is changing the way that many people learn languages. There is no still way to avoid the hard slog through vocabulary lists and grammar rules, but the books, tapes and even CDs of yesteryear are being replaced by email, video chats and social networks.


Livemocha, a Seattle company with $14 million in venture capital financing, mixes a social network with lessons for more than 38 of the world's more common languages.


The initial lessons are free, but unlocking some of the additional features requires a fee to Livemocha (starting at $10 for a set of lessons) or an agreement to correct the work of others, something my friend in Tunisia was doing for me. The lessons, whether they are flashcards, quizzes, audio recordings or written and spoken essays, are delivered through a Web browser. Michael Schutzler, Livemocha's chief executive, says the Web site's advantage is the ability to practice with a real person.


"The great irony is that even if you have years of classroom Spanish, you don't have a lot of confidence to go into a bar and have a conversation," he said.


The casual connections with real people throughout the world, however brief, are not just fun and surprising but reveal more about how the language is really used. The boy from Tunisia, while knocking my conjugation, passed along slang and attitude, something rarely found in textbooks.


I doubt that many traditional students of French find their way into conversations with so many diverse people. Maria, an older woman from Brazil who speaks French, was kinder and offered slightly different corrections. Melina, a woman from Southern France, used blue to emphasize her corrections to my work. It was a kind touch.


"What actually cements the ability really comes down to interacting with human beings." Mr. Schutzler said. He added, "My mom aced all of her English Lit before coming to the U.S., but when she came to the U.S., she couldn't get a cup of coffee at the diner."


Livemocha is experimenting with a variety of ways to motivate people that resemble the social games found on Facebook. The flashcard exercises, for instance, are scored, and the totals earned by studying and teaching appear on the front page. I earned a bronze medal, actually an icon of one, on my first day for helping many people with their English. The site even hopes to help its best contributors to sell their services to the more serious students.


Not every service is as well structured. MyLanguageExchange.com just maintains lists of people who know certain languages and want to learn others. Anyone can search the database, but only gold members, who pay $24 a year, can send email easily to others.


Each person sets up a profile and includes a short description of age, location and what he or she would like to talk about. There is a big demand to practice English, and I found many possible pen pals.


Marie, 40, was born in Spain but lives in France near the Bordeaux region. She wants to improve her English and "perhaps find a job in sales export." Serge, a Parisian who is retired, studies genealogy and wants to improve his English, Spanish and Swedish.


MyLanguageExchange.com claims it has more than 1.5 million members studying 115 languages.


I find the right partner through what are essentially classified ads. If I wanted to study Luxembourgish, the Germanic tongue of Luxembourg, there were 11 people looking to study English. There are 32 willing people who are fluent in Tswana, a Bantu language generally spoken around Southern Africa, mainly in Botswana. An e-mail or two is all it takes to find a study partner.


Maria, one of 113 people ready to help with Uyghur, which is spoken in western China, says she is also fluent in Mandarin but wants to practice Russian, Hindi and English. It is a big database.


"Our site tends to attract more of the serious language learners," said Dan Yuen, who helped found MyLanguageExchange.com in 2000. "They are also more likely to be effective language partners. In turn, this helps to attract more language learners to our community."


Some of the other choices are more limited but still useful. RhinoSpike.com set up a market for recordings spoken by native speakers. Anyone can post a selection of text and anyone can post a recording.


"The problem for many people learning a language is that they can't hear what the text is supposed to sound like," said Peter Carroll, one of the founders. "We built RhinoSpike to get native speakers to read the text that we post, so that we can both see and hear what is being said." Almost 2,500 recordings have been posted since the site opened in March.


Companies like RosettaStone.com, GermanPod101.com, ChinesePod.com and a surprisingly large number of other Web sites are competing to offer lessons and tutoring to students throughout the world. I found dozens of others offering what was found only on PC software a few years ago.


There are even more casual approaches that come with even less infrastructure and fewer of the protections for consumers that it may offer. It is easy to find, for instance, people who want to practice languages with a free phone call through the forums run by Skype. One click and you can talk free with someone who wants to practice another language. The standard protocol is to spend half the time on one language and half the time with the other.


Some sites, like UsingEnglish.com, englishcafe.com and Englishbaby.com, are devoted to helping people practice English but add the elements of sharing photos and interests like a dating service.


The depth and quality of random conversations like these vary greatly, but they are generally easier and more free than meeting people in bars, stores or in public.


Orlando R. Kelm, a professor at the University of Texas, Austin, who uses Livemocha and other tools in his language classes, says he finds that working with a partner on written words is often easier than with spoken conversation.


"A lot of times people write better than they speak," he said.


Still, he finds it ultimately worthwhile to work with others on the Web and search for the better partners because that provides a real connection that cannot be found from a book or a simple computer program.


"When I have to do an exercise and submit it to the world, when I know that real people are going to look at it and comment on it, it really jacks up my brain," he said.

Tell a Friend
•
Site Map
•
Print this Page
•
Email Us
•
Top