Americas & Beyond
Fidel Castro to Appear on Cuban Television Program

Paul Haven - Associated Press
go to original
July 12, 2010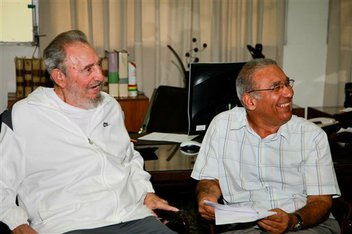 In this image released on July 10, 2010 by the state media Cubadebate website, Cuban leader Fidel Castro, left, sits next to an unidentified man during a visit to the National Center for Scientific Investigation in Havana last July 7, 2010. (AP/Cubadebate-Alex Castro)
Havana — Fidel Castro is back.


The aging revolutionary leader will appear Monday Cuba's key public affairs television program, according to a front-page headline in the Communist-party newsletter Granma. It may be the most prominent appearance by the former president since he fell ill in 2006.


Castro, 83, was set to discuss his concerns about the Middle East on the Mesa Redonda - or Round Table - a daily talk show about current events that is usually transmitted live on state media and seen across the island.


"This afternoon, special Mesa Redonda with Fidel," blares the headline.


The announcement did not specify if Monday's program would be broadcast live. Castro also appeared in a brief videotaped interview on the program in 2007 to discuss Vietnam.


But appearances have been extremely rare since a serious illness in 2006 forced him to step down - first temporarily, than permanently - and hand power over to his brother Raul. Photos of the elder Castro greeting workers at a science center were published in pro-government blogs and on state media over the weekend, the first time he has been photographed in public in that time.


Castro remains head of Cuba's Communist Party and continues to publish his thoughts on world events in frequent opinion pieces, called Reflections. Recently, he has voiced alarm about America's standoff with Iran over nuclear issues, as well as a deadly Israeli raid on an aid convoy headed to Gaza.


But he has stayed almost entirely out of the public eye since ceding power, helping Raul Castro carve out a role as the country's leader after a lifetime spent in his more famous brother's shadow.


The two Castros have ruled Cuba since overthrowing dictator Fulgencio Batista in 1959. Fidel's health has for years been the subject of frequent rumors - particularly among exiles in Florida, and his television appearance will undoubtedly be scrutinized for signs of his aging.


The photographs of Fidel published this weekend were taken on Wednesday at a scientific think tank in Havana. He is shown smiling and waving at workers, appearing relaxed and happy, but somewhat stooped. Granma republished the photographs on Monday under the story about his upcoming television appearance.


Cuba has occasionally released pictures showing Castro in private meetings with dignitaries, most recently during a visit in February by Brazilian President Luiz Inacio Lula da Silva. But he had not been photographed in a public setting since 2006.

Tell a Friend
•
Site Map
•
Print this Page
•
Email Us
•
Top