Americas & Beyond
Mexico: Local Media in the Line of Fire

Emilio Godoy - Inter Press Service
go to original
July 09, 2010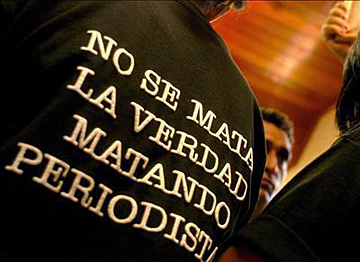 "One cannot kill the truth by killing the journalists."
Mexico City - It is open season on local media in states and cities in the interior of Mexico, which are virtually unprotected against violent attack and have been the worst hit by the murders of at least eight journalists this year.


The latest murder was that of Hugo Olivera, a correspondent for the newspaper La Voz de Michoacán and the Quadratín news agency, and editor of the local paper El Día.


His body was found Tuesday near Apatzingán, in the southwestern state of Michoacán, about 350 kilometres from the Mexican capital.


Olivera, 27, covered local crime news. In February he reported threats from federal police and his office was broken into, and several computers with investigative information were stolen.


"There is a pattern of attacks on reporters working in local media. The target is an editorial line. What we have been saying is that action is needed to prevent the murders. This colleague had been threatened, and that's where it all starts, with threats," Omar Rábago, coordinator of the campaign "Te hace daño no saber" (What you don't know can hurt you), told IPS.


This campaign is the initiative of the Mexican office of Article 19, a British organisation, and the non-governmental National Centre for Social Communication, to promote freedom of expression in this country of 107 million people.


"Local media investigate what is happening on the ground. They are physical, visible actors. Local problems are reflected in local media," Armando Prida, head of the non- governmental Foundation for Freedom of Expression, told IPS.


This year, at least eight journalists have been killed and one, Ramón Ángeles Zalpa, a reporter for the newspaper Cambio de Michoacán, has been missing since April. In 2009, 13 media workers lost their lives in similar circumstances.


Since 2000, 63 media workers have been murdered and another 10 are missing, according to journalists' associations and human rights organisations.


These statistics have made Mexico the most dangerous place in Latin America for the journalism profession.


Olivera was the fourth journalist to be slain in Michoacán since 2006. This state is the operating base of a drug trafficking cartel called La Familia (The Family), involved in territorial disputes with rival cartels over its route to the lucrative United States market.


Juan Rodríguez, a reporter for the newspaper El Sol de Acapulco, and his wife María Hernández, a freelance journalist, were murdered Jun. 28 in the southern state of Guerrero.


Furthermore, six attacks on local media have occurred this year.


In June alone there were three attacks, against the newspaper Noticias de El Sol de la Laguna, the daily Zócalo, and the repeater tower of the private television network Televisa, all located in the city of Torreón in Coahuila state, 1,000 kilometres north of Mexico City.


On Jul. 1, 30 federal police agents burst into the offices of the Society of Journalists and Communicators in Ciudad Juárez, on the border with the United States, with the pretext of pursuing alleged kidnappers, and attempted to detain a photographer who documented the raid.


In Mexico, journalists have become sitting ducks through the inaction of the authorities and harassment from powerful local people and organised crime.


A Special Prosecutor's Office for Crimes against Journalists, attached to the Attorney General's Office, was created in 2006.


However, since it was opened this office has dealt with around 100 cases, of which only four have been passed on to a judge. Organisations working for freedom of expression therefore regard its work as a failure.


This body has been renamed the Special Prosecutor's Office for Crimes against Freedom of Expression and has been given new powers, such as investigating federal crimes that are already being dealt with by the public prosecutor's office.


"The prosecution authorities are overwhelmed by the phenomenon of violence against media workers. We have asked for preventive measures, because the situation deserves urgent action," Rábago said.


Olivera's murder has attracted another blast of international condemnation.


The New York-based Committee to Protect Journalists (CPJ) said the crime is part of "a wave of criminal violence that is restricting news coverage and creating an atmosphere of intimidation which, in turn, leads to generalised self- censorship."


Reporters Without Borders said "there are good reasons to believe that his murder was related to his journalistic work."


The Paris-based non-governmental organisation has received reports from several journalists who gave up the profession because of violence in the states of Michoacán, Durango, Chihuahua and Sonora, where drug cartels have a strong presence.


"There is a structural problem, over and above the killings of journalists and freedom of expression, that has to do with impunity and corruption. We are caught up in a maelstrom that will last for several years," Prida predicted.


Frank La Rue, United Nations special rapporteur on freedom of opinion and expression, and Catalina Botero, special rapporteur on freedom of expression for the Inter-American Commission on Human Rights, part of the Organisation of American States, will visit Mexico in August.


They will both tour several Mexican states and listen to reports and testimony from non-governmental organisations.

Tell a Friend
•
Site Map
•
Print this Page
•
Email Us
•
Top