Americas & Beyond
New U.S. Oil Drill Ban Depends on Court Decision

Tom Doggett & Jeremy Pelofsky - Reuters
go to original
July 08, 2010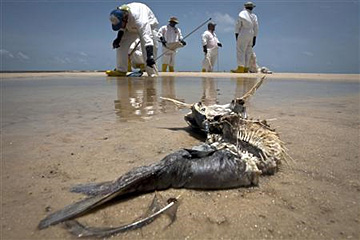 A decomposed fish lies in the water as workers pick up oil balls from the Deepwater Horizon oil spill in Waveland, Mississippi July 7, 2010. (Reuters/Lee Celano)
Washington/New Orleans - The Obama administration said on Thursday it will immediately issue a revised ban on deepwater drilling if an appeals court bars it from reinstating the six-month moratorium it imposed in the wake of the BP oil spill.


However, the administration will not impose a new drilling ban if the federal court in New Orleans supports its initial moratorium, an Interior Department official told Reuters.


A hearing before a three-judge appeals panel is scheduled for 3 p.m. CDT/4 p.m. EDT (2000 GMT) on Thursday on the ban imposed during an investigation of the April 20 drilling rig explosion that killed 11 men and triggered the worst oil spill in U.S. history.


Now in its 80th day, the flow of oil into the Gulf of Mexico is killing birds, sea turtles and dolphins, imperiling multibillion-dollar fishing and tourist industries at a time of high unemployment, and soiling the shores of every U.S. Gulf Coast state.


It has taken its place firmly at the top of President Barack Obama's political agenda and complicated U.S. ties with close ally Britain. Obama's handling of the crisis has been subject to severe criticism despite widespread public anger in the United States at BP.


BP's New York share price on Thursday was little changed after rising about 24 percent in the past eight trading days on talk company executives were seeking new investors and optimism the worst might be behind the company.


The Philadelphia oil services sector index was also about flat and trading volume was low, as traders waited for the result of the hearing.


A federal judge stopped the administration's drilling ban last month, ruling in favor of companies like Hornbeck Offshore Services Inc which argued the moratorium was too broad, would cost jobs and unfairly punished their industry.


Justice Department lawyers will argue the ban is sufficiently narrow and necessary to avoid another disastrous spill.


Pushing to show that it is on top of the situation, the White House said on Thursday it sent BP a list of questions about its efforts to cap the well and ordered the company to respond within 24 hours.


The letter said the containment effort is entering a "critical stage" and demanded a detailed timeline for estimated completion of relief wells and contingency plans.


Regardless of the ruling, the industry is not expected to resume drilling in deep waters any time soon because of the legal uncertainties.


And whichever side loses on Thursday could appeal to the full appeals court, and the case ultimately could be taken to the U.S. Supreme Court.


BP TAMPS DOWN EXPECTATIONS


BP sought to tamp down expectations on Thursday after a report it could stop the well by July 27 - the same day the company is due to report a second-quarter profit. The target for completing a relief well to stop the flow had been mid-August.


The head of BP's Gulf Coast restoration unit, Bob Dudley, told The Wall Street Journal stopping the well between July 20 and July 27 could be possible "in a perfect world with no interruptions."


"He (Dudley) gave that as the very, very best scenario if everything went absolutely superbly according to plan and there are no interruptions but the expectation is that it will be August," a spokeswoman said.


Those perfect conditions would include good weather - in the middle of the six-month hurricane season that began on June 1 - and a tropical disturbance prompted BP to evacuate some workers from four Gulf of Mexico platforms this week.


Another serious storm in the Gulf of Mexico could further disrupt efforts to contain the massive oil spill.


HAYWARD'S GLOBAL TOUR


Bankers say BP's chief executive, Tony Hayward, is on an international marketing drive for its stock, whose price had fallen by around half since the Macondo subsea well blew out.


Singapore state investor Temasek Holdings on Thursday dismissed talk it had talked to BP about a strategic stake.


"It's speculation," Temasek Executive Director Simon Israel told reporters when asked if Temasek was talking to BP.


Hayward met an Abu Dhabi state investment fund on Wednesday, which followed visits to Azerbaijan and Russia.


Estimates of the leak's severity vary widely, to as high as 100,000 barrels per day.


BP has committed to a $20 billion fund for clean-up and other costs stemming from the spill. Its costs to date have topped $3 billion.


But coastal residents - out of work from fishing bans and a slumping tourist industry, and contemplating the ecological damage posed by tar clumps as large as school buses - say what has been done so far is nowhere near enough.


"We have been asking for more protection since the oil began spewing into the Gulf and we are so frustrated because it seems that BP wants the oil to come on shore," said Tommy Longo, mayor of Waveland, Mississippi, where high tides were washing sheets of the black crude onto the beaches.


(Additional reporting by Matthew Bigg in Mississippi, Martinne Geller in New York, Rodrigo Campos in New York, Caren Bohan in Washington, and Kristen Hays in Houston; Writing by Patricia Zengerle; Editing by Kristin Roberts and Jerry Norton)

Tell a Friend
•
Site Map
•
Print this Page
•
Email Us
•
Top