Americas & Beyond
Rio Grande Rises In Texas City That Bears Its Name

Associated Press
go to original
July 10, 2010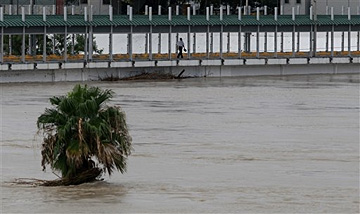 The Rio Grande, driven by dam releases upstream and rain-swollen tributaries following last week's Hurricane Alex, pushes against International Bridge 1 which remains closed, Friday, July 9, 2010 in Laredo, Texas. (Associated Press)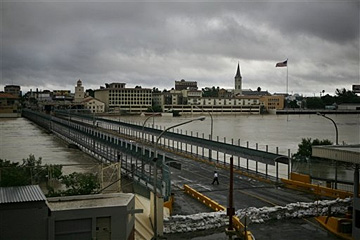 A woman walks along international bridge number two that connects Nuevo Laredo, Mexico, bottom, and the U.S. city of Laredo, top, separated by the swollen Rio Grande as seen from Mexico, Friday July 9, 2010. (Associated Press)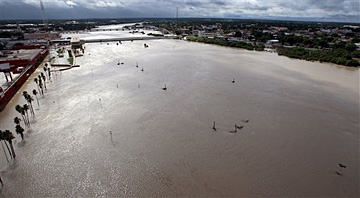 A swollen Rio Grande pushes against International Bridge 1, foreground, which remains closed, and International Bridge 2, background, still open, Friday, July 9, 2010 in Laredo, Texas. (Associated Press)
Rio Grande City, Texas - Upstream communities began to assess the damage Friday wrought by a Rio Grande that jumped its banks in the Texas city of Laredo, while down river people marveled warily at a river that bore little resemblance to the lazy waterway that usually divides border cities.


The Rio Grande continued rising in the city that bears its name to more than three feet above flood stage, according to the National Weather Service. The river was expected to rise at least another two feet to more than 55 feet.


Meanwhile, authorities in Mexico confirmed four people drowned Thursday when the Las Vacas creek overflowed near Ciudad Acuna, across the river from Del Rio, Texas. Coahuila state prosecutor Alberto Vasquez said the badly decomposed bodies hadn't been identified.


Longtime Texas residents said they had not seen the Rio Grande reach these heights since Hurricane Beulah in 1967. The difference so far is that the area mercifully received little rain from the tropical depression that came ashore Thursday near the mouth of the Rio Grande.


Hugo Canales enjoyed a pleasant breeze and a break in the gray clouds from a swing in his front yard. Normally the seat affords him a view of the onion and grain fields below. On Friday, it was a vast expanse of brown water, broken only by a green tree line more than a half-mile away that usually marks the edge of the Rio Grande.


The river would have to rise several more feet before it threatened Canales' house and those of his neighbors, and he laughed at the idea of it flooding from upstream waters while the skies were sunny.


"It's bad to get flooded without rain," he said.


City Manager Juan Zuniga hoped the lack of rain would stave off any threat of serious flooding.


"If we get any substantial rain that will cause problems for us," Zuniga said. His more pressing concern was how much water would be released from the Falcon Dam upstream.


The International Boundary and Water Commission more than doubled the amount of water passing through Falcon on Thursday, and Zuniga waited to hear if it would be increased again. The IBWC was analyzing data and had not made a decision to release more water at midday Friday.


The other factor was how much water would enter the Rio Grande from Mexico through the Rio San Juan. A Mexican reservoir not far from the border across from Rio Grande City, it has a spillway that does not allow authorities to control how much water leaves once it tops the barrier.


Jose Lopez, 80, lives next to a creek that normally feeds the Rio Grande. Water has been backing up in the creek during the last two days, and Lopez was readying his yard Friday.


He showed an eroded line about three feet up his house's stucco wall where he said floodwaters from Hurricane Gilbert in 1988 flowed past his house.


"Everything inside was lost, the stove, the beds," Lopez said. This time Lopez said he would try to leave if it looked like the creek would flood again. "But where am I going to go? My wife is ill. We don't have other family here."


Downstream, Hidalgo County issued a voluntary evacuation recommendation for the small community of Los Ebanos Friday afternoon. It sits on a small knob of land surrounded on three sides by the Rio Grande and is not protected by levees.


The Rio Grande crested in downtown Laredo at more than 42 feet before dawn Friday. The water remained high, with water pushing against a bridge that remained closed, but officials did not anticipate any more evacuations.


Those who were evacuated Thursday were expected to be out of their homes for a couple of more days, until the Rio Grande subsides enough to allow storm water and overflown creeks and tributaries to drain there.


"It still may be a while before things are back to normal," said city spokeswoman Xochitl Mora Garcia.


At least a few blocks of homes had cars in their driveways with water up to their windows, but city officials were still trying to determine how many homes were affected. Mora said more than 50 homeowners had called the city by Friday afternoon to report damage. They began Friday asking residents to call and report damage.


In Laredo, where roughly half of all U.S.-Mexico trade crosses, authorities on Friday reopened one of the international bridges on the northwestern edge of the city, but one downtown bridge remained closed and a second was severely restricted. The vehicle inspection station on the Nuevo Laredo, Mexico, side was under several feet of water.


Traffic was also restricted on the World Trade International Bridge — a route that moves roughly 8,000 tractor trailers a day between the two countries — but it remains open.


Flooding and dam releases cut the highways connecting Nuevo Laredo with Monterrey, threatening one of the nation's main trucking routes.


Patricia Araujo of Mexico's Communications and Transportation Department said flood releases from the Venustiano Carranza dam in Coahuila swelled the Salado river, sending water over a bridge in neighboring Nuevo Leon state early Friday. With water covering about a mile of the free and toll highways, the department organized an alternative route by Friday afternoon.


Araujo said there were no figures immediately available on how truck traffic had been delayed by the highway closures.


Dozens of houses in low-lying neighborhoods of Nuevo Laredo were flooded late Thursday, with water rising as high as four feet in some places. Firefighters using ropes, small boats and muscle power managed to lasso about a half-dozen truck cargo containers floating in the Rio Grande, to prevent them from smashing into or damaging bridges.

Michelle Roberts reported from Laredo. Associated Press writers Jorge Vargas in Nuevo Laredo, Mexico; and Oscar Villalba in Piedras Negras, Mexico; Mark Stevenson in Mexico City; and Jeff Carlton in Dallas contributed to this report.
Tell a Friend
•
Site Map
•
Print this Page
•
Email Us
•
Top