Americas & Beyond
Mexico Enlisting U.S. Help In Bombing Investigation

KVIA
go to original
July 20, 2010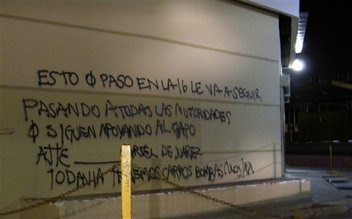 A wall at a shopping center is covered by graffiti that reads in Spanish "What happened on the 16 (street) is going to keep happening to all the authorities that continue to support the Chapo (Guzman), sincerely, the Juarez Cartel. We still have car bombs (expletive) ha ha." (Associated Press)
Mexico has asked the U.S. for help investigating the deadly car bombing in Juarez.


The attack is the first time drug gangs have used the tactic against Mexican law enforcement, and a new "narco message" has appeared threatening federal police in Juarez.


At Mexico's request, the FBI sent agents to examine the crime scene in Juarez, and the ATF is helping identify the components used to build the deadly car bomb. Washington is following the investigation closely.


Authorities in Mexico say the attack was in retaliation for the arrest of a Juarez cartel leader. Federal police were lured to the scene by a gunshot victim dressed in a city police uniform, but it was a trap - the man was not a real officer.


A message signed by the Juarez cartel said it was going after cops who support a rival cartel.


Now, a new message scrawled on a wall in Juarez warns of more car bombs targeting federal police, unless authorities arrest corrupt cops. This message, unsigned, was directed at the DEA and FBI.


The car bomb killed a bystander - a doctor who tried to offer medical help at the scene. Family and friends gathered over the weekend to pay their last respects to Jose Ortiz.


The victim's relative asked for prayers for his brother, the family, and for this border city.

Tell a Friend
•
Site Map
•
Print this Page
•
Email Us
•
Top