Business News
Mexico Sees Huge Potential in Cooperation With China

Xinhua
go to original
July 30, 2010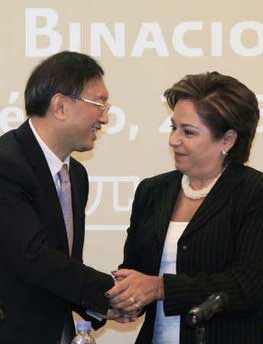 Mexico's Foreign Minister Patricia Espinoza (R) shake hands with her Chinese counterpart Yang Jiechi during the inauguration of the IV Permanent Binational Commission Mexico-China trade meeting in Mexico City July 29, 2010. (Reuters/Eliana Aponte)
Mexico and China have great potential to expand the scope of cooperation, Foreign Minister Patricia Espinosa said this week.


After rapid growth of bilateral ties over recent years, plenty of room remains for the two countries to get closer, she told Xinhua on Wednesday in an interview ahead of the fourth meeting of the Mexico-China Permanent Binational Commission.


At the meeting, to be held here Thursday and Friday, the two countries will be able to structure a work program for the period 2011-2015, a guide for the development of bilateral ties, said Espinosa, who will jointly preside over the meeting with her Chinese counterpart Yang Jiechi.


The program is aimed at deepening political dialogue on a range of topics, including climate change, financial architecture and reform of international financial institutions, and thus creating a stronger voice for developing countries, she said.


Meanwhile, Mexico hopes to expand cooperation with China in education, culture, science and technology and other areas, and to increase trade between the two countries, she added.


"The truth is that there is a very strong trade flow from China to Mexico, because China is our second commercial partner. We would like at the same time to see more presence of the Mexican exports in the Chinese market," Espinosa said.


"We already have some products in that market, but we think that we also can contribute to the Chinese consumer with products of high quality at competitive prices."


Mexico also welcomes more Chinese investors, said the foreign minister, noting that current Chinese investment in Mexico is "much lower than the potential" of a country like China, which boasts many powerful and internationally competitive enterprises.


Mexico sees China as a priority in its external relations, and "it is clearly expressed by the fact that we have a binational work consultation mechanism," the top Mexican diplomat said.


Recalling President Felipe Calderon's 2008 trip to China, she stressed that such high-level visits manifest the importance that both countries attach to boosting the bilateral ties.


More than 150 delegates from both countries will attend the upcoming bilateral talks, whose previous three sessions took place in 2004, 2006 and 2008.


Commenting on the ongoing World Expo in Shanghai, Espinosa lauded China's efforts in running such an event of global importance. Through the Shanghai Expo, China has manifested its ability to host all kinds of grand occasions, she said.

Tell a Friend
•
Site Map
•
Print this Page
•
Email Us
•
Top