Business News
Calderón Signs Decree Creating Council for Financial Stability

Suzanne Stephens Waller - Presidencia de la República
go to original
July 29, 2010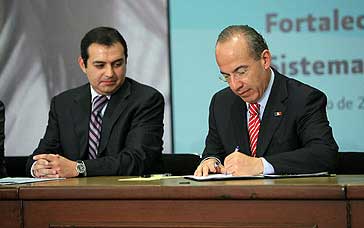 Federal Government will continue to be committed to the country's economic strength, Calderón declares.
Mexico City - After declaring that Federal Government adopted the right strategy for dealing with the world crisis, President Felipe Calderón signed a decree creating the Council for the Stability of the Financial System, which provides early warning of potential risks to the country's financial stability.


This Council, he explained, comprises the Bank of Mexico, the Secretary of Finance and Public Credit, the National Banking and Shares Commission, the National Commission of Insurance and Finance, the National Commission for the Retirement Savings System and the Institute for the Protection of Bank Savings.


"Through this Council, we are creating a space to boost coordination and information exchange between the country's financial authorities, which will enable us to act more quickly and accurately when risks to the financial system are detected. It will also enable us to meet the commitments we have made to strengthen national finances and contribute to national efforts in keeping with what we agreed with G-20.


The point is to increase the accuracy and timeliness of the evaluation and analysis of the financial situation and to speed up decisions that will enable us to prevent systemic problems and risks, which have been particularly virulent in other countries. This will also enable us to solve them before they cause further damage," declared the President, accompanied by Finance Secretary Ernesto Cordero and governor of the Bank of Mexico, Agustín Carstens Carstens.


Among its functions, he explained, it will serve as an advisory board for the Executive Branch and especially for the President, providing him with tools for more timely decision making.


In addition, he said, it will draw up an annual report on the country's financial stability and on all the diagnoses that have been carried out.


"History has shown that the analysis of security and the solidity of institutions is extremely ineffective when it is undertaken in isolation. This Council will therefore be able to supervise institutions in an integral fashion, taking into account the viability of each financial institution and the system as a whole," he said.


President Calderón declared that in difficult times, Federal Government has acted responsibly, placing the nation's interest above all others, since the measures implemented were more effective due to the solidity of the financial system, which proved to be part of the solution rather than the problem.


"Within this framework of stability and economic certainty offered by Mexico, we are promoting the growth of our economy and above all, what interests us most: the creation of more and better jobs for Mexicans.


Even at times of extraordinary difficulty, we have continued to work every day to deal with the challenges facing our economy," he explained.

Tell a Friend
•
Site Map
•
Print this Page
•
Email Us
•
Top