News from Around Banderas Bay
Ameca Bridge Reopened for Light Traffic

PVPulse.com
go to original
August 31, 2010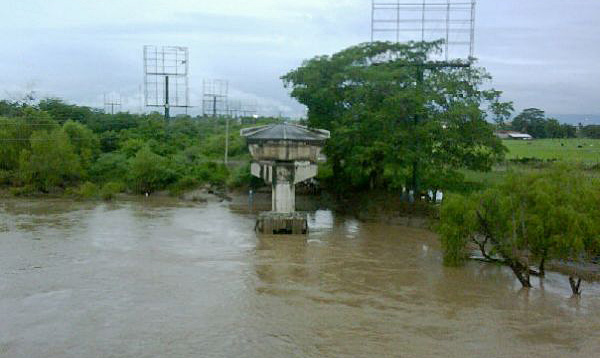 Ameca bridge collapse (photo by PVPulse)
UPDATE: The south-bound 'new' bridge that connects Puerto Vallarta and Riviera Nayarit has been re-opened for taxis and passenger cars heading both north and south. Authorities recommend that people avoid the bridge unless it is an emergency to keep traffic flowing and to avoid traffic jams.

At approximately 2:30 am on August 31, the north-bound (old) Ameca bridge that connects Puerto Vallarta and Riviera Nayarit collapsed. It is reported that about 60 meters (totaling two sections) of the bridge fell into the current of the river last night. Minutes later, local authorities decided to stop circulation on both bridges. At the scene are military personnel, civil protection, the fire department, municipal police, the red cross, and the marines.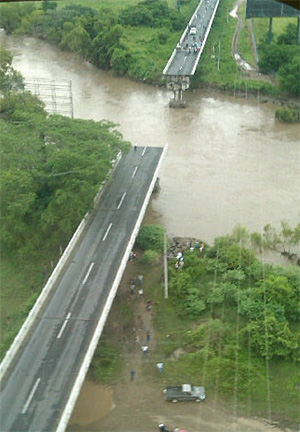 Ameca bridge collapse aerial (photo by PVPulse)
Authorities are at the scene searching for missing persons. Two people were rescued, three cars are reported fallen, and one family is still missing. Civil Protection reports that it was the tensors that failed. Eyewitnesses say that no one can cross the bridge, not even by foot.


Civil protection personnel at the scene commented that the south-bound bridge is currently closed to vehicles and pedestrians and that this is expected to last several hours, and possibly all day. People traveling north from Puerto Vallarta or south from Riviera Nayarit should postpone their trip or take a water taxi. Water taxis are available at the Nuevo Vallarta Marina, Paradise Marina, and Riviera Nayarit Marina at La Cruz.


At 4:30 am, local authorities closed traffic on the south-bound Ameca bridge to Puerto Vallarta, and they are awaiting specialized personnel from the SCT to evaluate the new bridge (which is downriver from the collapsed bridge) for safety. Federal and state police in Compostela are asking south-bound traffic on Highway 200 to turn back to avoid traffic problems.


Jalisco's Governor Emilio Gonzalez Marquez arrived in Puerto Vallarta this morning and issued a statement in which he mentioned that they have implemented an "air bridge" of helicopters that are available to get people back and forth to hospitals for medical emergencies. The governor also mentioned that two other bridges in the area of Las Palmas, Jalisco had also collapsed last night.


Centro Universitario de la Costa's main meteorologist said that last night, the University recorded high levels of rainfall. He mentioned that there are unconfirmed reports from the region of San Juan de Abajo of extremely high levels of rain last night. In his words, the 178.5 mm of rain was "comparable to one month of rain in one night."


Free maritime transportation is being offered by Vallarta Adventures from the Paradise Village Marina to the main maritime port API today. One-way trips take approximately 45 minutes. The schedule is as follows:


11:00 am from Paradise Village Marina to main Maritime Terminal API in Puerto Vallarta


12:00 pm from API to Paradise Village Marina


1:00 pm from the Paradise Village Marina to API


2:00 pm from API to the Paradise Village Marina


3:00 pm from the Paradise Village Marina to API


4:00 pm from API to the Paradise Village Marina


5:00 pm from the Paradise Village Marina to API


6:00 pm from API to the Paradise Village Marina

Tell a Friend
•
Site Map
•
Print this Page
•
Email Us
•
Top