News from Around Banderas Bay
Lili Alvarez is Training in Riviera Nayarit to Earn Admission to the LPGA

RivieraNayarit.com
go to original
September 22, 2010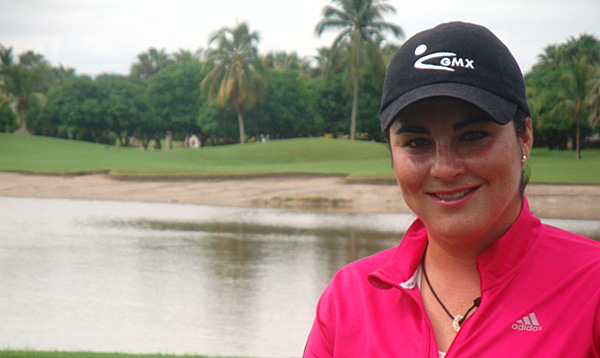 This week one of the promising talents of Mexican golf, Lili Alvarez, is training at the El Tigre Golf and Country Club at Paradise Village in Nuevo Vallarta.
Lili Alvarez is one of the promising talents of Mexican golf, and the number-one ranked Mexican at the Riviera Nayarit Challenge of the Duramed Futures Tour that took place last March. Although Lili Alvarez lives in Durango, she quickly admits that Riviera Nayarit feels like her second home, and this is why this week she'll be training at El Tigre Golf & Country Club of Paradise Village, in Nuevo Vallarta.


Lili is seeking her classification at the Ladies Professional Golfers Association (LPGA) in the Qualifying School (Q-School), which took place at Palmer and Dinah Shore Course of the Mission Hills Country Club at Rancho Mirage, California, on September 14 - 17. After earning a ticket for the final, which will take place next December at the Champions and Legends course at Daytona Beach, Florida, she expects to make the final leap into the top category.


The Mexican golfer maintains that simply stepping on El Tigre Golf & Country Club's fairways makes her feel more confident. In 2010, Lili played the final of Golf Channel's Big Break reality show, and she says that Riviera Nayarit feels like her second home because of the warmth of its people and the quality of its infrastructure.


Lili thinks it's important to train at El Tigre, since the course conditions are similar, "except for the climate, which is desert over there", she said. However, her appreciation for Riviera Nayarit has been shaped mostly by the support, facilities and the warmth of the people that she's found there, namely by Jesus Carmona, Francisco Salazar and all the directors of Paradise Village Group, and by Graziano Sovernigo, the proprietor.


"I love coming here. I can relax a lot and I'm able to focus completely. I actually haven't been out much; I've basically been on the course and at the Taheima resort, which is great to rest, to relax and to practice on the Hole 6 fairway. I have to say that I'm impressed with the conditions of the El Tigre course; even though it has rained a lot, it's in perfect condition. I think of this as my second home, and I feel really delighted," said Lili.


Alvarez talked about her experience in the 2010 Big Break, a reality show presented on Golf Channel that assembles professional golf talents around a series of challenges. Lili made it to the final round, which was broadcast on August 25th, where she had a hard-fought one-on-one match-up with Carling Coffing, which wasn't defined until the 17th hole, turning in favor of the Middletown, Ohio native.


"I was so close to winning, and the truth is that I don't really miss the prizes like the trip to Dubai or the money. I miss not having the opportunity to attend to the Lorena Ochoa Invitational, which to me was the most enticing aspect of participating in this reality show. However, the experience was great, and it was so different than just playing golf. Each shot posed so much pressure, as there were 92 people from the staff and lots of cameras, and then we would be interviewed after every shot..."


"I feel like I learned a lot, as I had to deal with many issues not directly related to golf. Now I want to do the same: garner that kind of attention, but on the highest level. I was only one shot away, but I think I had the chance to appear on TV and understand which aspects I have to work on - I really received an excellent feedback", she said.


Riviera Nayarit has become one of the destinations with the best golf offerings on an international level. It has six professional golf courses and three more under development, and in 2010 alone, Riviera Nayarit has hosted the Nayarit Challenge of the Duramed Futures Tour, and the Riviera Nayarit Classic of the Canadian Tour.


Since the creation of the Riviera Nayarit brand three years ago, a priority for the industry has been to attract high quality tourism that poses a low environmental impact. This isn't only a marketing issue, but a strategy led by Governor Ney Gonzalez Sanchez to achieve an integral development of the community and to increase not only the raw economic indexes, but also the well being of the society as a whole.


High performance sports are a key niche to achieve this goal, as they deal with people who are strongly focused on achieving goals, and who also have purchasing power and a well developed environmental culture. This is why the Convention and Visitors Bureau of Riviera Nayarit endorses the efforts made by the Paradise Village Group to support prominent players like Lili Alavarez.


About Riviera Nayarit: Mexico's newest destination, Riviera Nayarit, stretches along 192 miles of pristine Pacific coast framed by the majestic Sierra Madre Mountains just ten minutes north of accessible Puerto Vallarta International Airport. The region extends along the entire coast of the Pacific state of Nayarit including the resorts of Nuevo Vallarta, the historic colonial town of San Blas, exclusive Punta Mita, picturesque fishing villages, miles of serene beaches and spectacular Banderas Bay. Riviera Nayarit offers countless activities, all pleasantly affordable, such as: PGA golf courses, luxury spas, whale watching, turtle release, zip lining, surfing, record deep sea fishing, bird watching, international cuisine, and shopping for local artwork and traditional Huichol handicrafts. The region attracts and satisfies vacationers of all tastes and budgets with its wide range of accommodations including chic luxury resorts, eco-tourism boutique hotels and quaint B&B inns. Visit the website at RivieraNayarit.com
Tell a Friend
•
Site Map
•
Print this Page
•
Email Us
•
Top