News from Around Banderas Bay
Crocodile Attack Near Puerto Vallarta

PVNN
October 05, 2010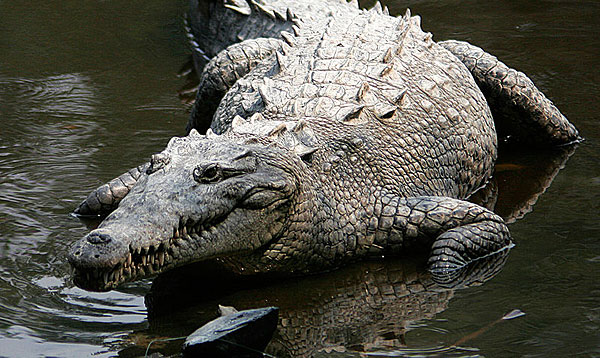 Cocodrilo Americano photo taken by Tomás Castelazo in La Manzanilla, Mexico. (Wikimedia Commons)
Crocodiles can be dangerous to humans, and attacks in Mexico, Costa Rica, and Guatemala are not unprecedented. These attacks rarely make international news, and therefore are not well-documented. However, they can - and do - happen in places where crocodiles are native.


According to a recent article written by Tom Marshall for the Guadalajara Reporter:

A 33-year-old man was killed Sunday evening after being attacked by crocodiles in a lagoon 40 minutes from Puerto Vallarta. Despite there being signs warning of crocodiles, Alberto Esquivel Pelayo waded into the lagoon during a fishing trip with friends.

Local reports say that the men were drinking alcohol whilst fishing.

Esquivel was bitten by a crocodile, which then pulled him into the deeper waters of the lagoon where he was set upon by at least five others, according to witnesses.

Tourists at the area known as Boca Negra near the Ameca River and not far from the Nayarit/Jalisco state borders watched on helplessly. Various people tried to resuscitate Esquivel but it was to no avail.

Police shot dead a crocodile weighing some 400 kilos and almost five meters long.

There have been three crocodile attacks around the Puerto Vallarta area so far this year.

Jorge Tellez, Director of Biological Sciences at the University of Guadalajara said similar attacks would continue to occur as long as humans take away crocodiles natural habitats. Tellez called for permanent crocodile experts to watch over the area and an ecological park where the endangered species can be controlled in their native environment and won't cause harm to humans.

As always, play close attention to the signs around beaches. If one indicates crocodiles are present, stay out of the water in those areas. Keep a close reign on children and any pets too.
Tell a Friend
•
Site Map
•
Print this Page
•
Email Us
•
Top