News from Around Banderas Bay
Mark Alan Smith 'Wows' Puerto Vallarta

Gary R. Beck - PVNN
November 30, 2010
The Puerto Vallarta debut of Mark Alan Smith, a three night engagement at Paco's Ranch presented by Mingo Mexico Productions, was a sell-out.
Tracy Parks' Mingo Mexico Productions presented the Puerto Vallarta debut of Mark Alan Smith, singing live at the all-new Paco's Ranch on Vallarta's southside, for a three-night Thanksgiving week engagement. We caught the closing night in a full house, sold out as were the other two shows.


Mark's stage presence, vocal impressions and range (no lip sync in this show) were remarkable from the first line of the opener. Most figures impersonated were female but several were male, in addition to himself, in fine voice.


The stage prop was a dressing table with a collection of wigs for the appropriate artist. She opened with a 70's disco number, launched into white trailer trash queen Jeanie C. Riley scolding the "Harper Valley PTA," though lyrics, as in other places in the performance, were updated for the crowd and our fair city of Puerto Vallarta.


Tina Turner left her Ike and launched into "I Can't Stand the Rain." One of the most hilarious and professional numbers was Bette Davis doing "These Boots Are Made For Walkin'." Must be seen to be believed.


Patsy Cline proved most popular after "Walking After Midnight" and "Sweet Dreams." Bowing to the crowd pleas, especially from Dallas where Mark hails, begging for "Crazy," he repeated it from opening night and the audience learned why... it was stupendous. "Rainbow Connection" was a fun mix of the Muppets Movie's lead singer with Kermit the Frog and Miss Piggy (snort).


Karen Carpenter launched into a holiday spirit with "Merry Christmas, Darling", followed by Eartha Kitt and her cat scowls. "Jingle Bell Rock" got the mood swinging and audience swaying. Patti LaBelle and Judy Garland joined in, often with the character changing after a bar or two, a phenomenal feat.


Even Elmer Fudd (remember him?) made a brief visit. A crowd-pleaser was Jimmy Buffett singing his joyous "(Wasted Away Again in) Margaritaville," totally appropriate for this town, its residents and visitors. Seemingly everyone sang the chorus loudly.


Cher was classic and Bette Midler proudly entered the stage singing her huge ballad "Wind Beneath My Wings" sharing lines with other singers in alternated verses. One of many high points was Carol Channing's "Hello Dolly," lines alternating back and forth with Louis Armstrong, extremely impressive in its difficulty and delivery.


For more than 20 years, Mark Alan Smith has traveled worldwide selling out theaters, nightclubs and showrooms. He has performed with some of the greatest entertainers of our time including the legendary Eartha Kitt, Thelma Houston and Sir Elton John.


A documentary about Mark, From a Jack to a Queen, directed by Erik Hayes, ran in short film festivals in 2003, winning an Audience Favorite Award. All that has been heard is "Top Notch" and "Bring Him Back!" He seemed very pleased with his South-of-the-Border reception and has loved Vallarta for years, so that is a distinct possibility.


For information on future events, call Mingo Mexico Productions at 322-168-9950.
---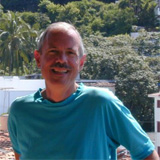 After 20 years in the San Francisco restaurant business, Gary R. Beck turned his attentions to cooking, dining out, creating recipes and exploring Puerto Vallarta's rich array of eateries. Famous for his restaurant guide, available online at CafePress.com or Lulu.com, Gary also writes restaurant reviews for Puerto Vallarta newspapers, Bay Area magazines, and now, a feature column for BanderasNews.com. Contact Gary at garyrbeck1(at)yahoo.com.
Click HERE for more articles by Gary R. Beck.
Tell a Friend
•
Site Map
•
Print this Page
•
Email Us
•
Top