News from Around Banderas Bay
The Southside Shuffle: A Fun-Filled Event

Laura Gelezunas - Video Diva Productions
November 25, 2010
Every other Friday from 6-10 pm through April 8th, twelve shops and galleries on the south side of Vallarta will participate in 'The South Side Shuffle.' (video by Video Diva Productions)
The streets of downtown Puerto Vallarta are bustling with activity and people headed to the Southside Shuffle, a two block party on Basilio Badillo and Constitucion every other Friday from 6 to 10 pm.


Hang out with old friends and meet new ones while walking between 12 participating businesses. In Puerto Vallarta this is the only ongoing party of its kind and you can shop for clothing, jewelry, art and home decor items.


It is safe to walk the streets at night, which means locals and visitors are at ease while walking around.


Vicki Bovet, a visitor says, "I certainly am not scared to walk on the street, it's safer than at home in Vancouver."


Debbi Egan goes on to say, "I've been coming to Vallarta for 22 years and have lived here for eight, and I'm not afraid at all, it's a beautiful city."


"It is far more dangerous to live in Allentown, Pennsylvania, and walk downtown at midnight than here in Puerto Vallarta," says William Trachtenberg, a part-time resident, "I don't want to live in Juarez or a border town, that makes sense. I tell people it's like if there's a problem in Miami Beach don't go to Allentown, Pennsylvania a thousand miles away, it's just absurd and kind of a shame. Everyone hears the word Mexico and that turns into danger, it just isn't there, my wife and I love being here."


William says, "I think this is a wonderful idea, the Southside Shuffle, just fun to do, and I have to go out to dinner so I thought I would stop by and get some wine, but it really stimulates the whole area, I think it makes people feel good, that things are happening in Vallarta, just a fun thing to do."


"I get to meet all the people that have shops here," says Vicki, "And this is our first stop when we hit Puerto Vallarta."


Free drinks, musicians, culture and a lot of fun offered at 12 businesses featuring clothing, art, jewelry and home decor. Party with your friends and hopefully make new ones, too. The fiesta hits the streets every other Friday from 6-10 pm.
---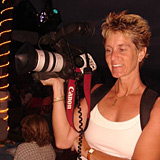 After having spent 10 years in the world of US broadcast news, Laura Gelezunas decided to unleash her skills on Puerto Vallarta by opening Video Diva Productions, a full-service, professional digital video company. Whether you're interested in a sales video, WEBmercial, music video, feature story, documentary, or corporate event video coverage, Laura has the experience, equipment and talent to coordinate a professional production. For more information, click HERE or visit her website at VideoDivaProductions.com.
Tell a Friend
•
Site Map
•
Print this Page
•
Email Us
•
Top