Technology News
What's New in the Social Networks?

Guillermo Ramón Adames y Suari - PVNN
November 02, 2010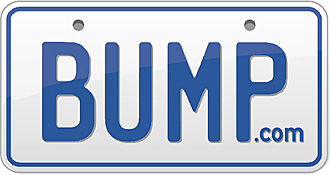 BUMP is a social network that combines a new dimension: your license plate as part of your information or way to get hold of you.
Definitely there is enough material to write about social networks every day.


The last thing that has come up (for what I know) is a new social network that was born in August 2009. You can claim that I am behind in my social network setting… well I am. Anything more than two weeks old… in computer terms "is old".


BUMP is a social network that combines a new dimension: your license plate as part of your information or way to get hold of you. The outlook is that every American (and whoever) spends some 46 min a day commuting. The idea is to extend your "available" time through communications. All that sounds good but… how does it operate what they claim the 4-way communication? First, you sign up with your car's license plate: state.plate@bump.com.


For the time being, the network is available in the US only. Through millions of cameras you can be detected where you physically are. This detection adds to your GPS, your cell chip and if by any chance you are in front of an internet mobile computer, your ip address. If you write a check or make credit card transaction in the meanwhile, you will be spotted. Definitely you can't be missed!!! Don't bother giving a step sidewise. You will be detected: You MUST be assured; you can be followed via twitter and facebook in case you manage to escape from all other methods.


If there is a complaint, for example, your alarm does not stop, any user will address you a "life" email as you might be driving. Or if they think "you are cute" whoever will get hold of you. Eventually if your alarm is bothering somebody they will get a message to you. Eventually a Smartphone message through a smartphone app in whichever smartphone will be linked to your car or car rental in the various car rental companies. A communicating system would certainly indicate whether you have a satellite system with your car radio and manage to get any message to you in the middle of any programming system.


Advertising: As you are car-plate-identifiable, when you will be in an area certain type of publicity can reach you such as restaurants, services and you name it until you move to the next address of coverage with the new setup of the new area.


All sorts of traffic ideas will be the additional chat area to this new social network. Hints, unknown paths etc. You can even send an email to another vehicle, hoping (s/he is in the network) and receive whatever as a message: from a warning to an invite to the driver of the car if they are selling it. It seems to me that the core idea is publicity as you move through the city/ state/ country. I don't know what you think but I definitely would love to be able to go to the beach or drive around without everybody knowing where I am… or who with for that matter.

Guillermo Ramón Adames y Suari is a former electoral officer of the United Nations Organization. Contact him at gui.voting(at)gmail.com.
Tell a Friend
•
Site Map
•
Print this Page
•
Email Us
•
Top