Americas & Beyond
Washington State Bans Alcoholic Energy Drinks

Curt Woodward - Associated Press
go to original
November 12, 2010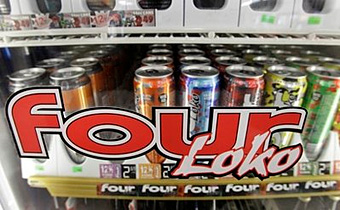 Four Loko and other alcoholic energy drinks are seen in the cooler of a convenience store Wednesday, Nov. 10, 2010, in Seattle. Following a vote by the state Liquor Control Board Wednesday morning, Washington state is banning the drinks effective Nov. 18. The ban comes after nine Central Washington University students were hospitalized after a party last month, where authorities say they drank the caffeinated malt liquor beverage Four Loko. (AP/Elaine Thompson)
Olympia, Wash. – Retailers have a week to clear millions of dollars worth of alcoholic energy drinks from their shelves after state regulators banned them Wednesday, citing the hospitalization of nine dangerously drunk college students last month.


The emergency ban, similar to those in Michigan, Utah and Oklahoma, takes effect Nov. 18. Washington's rule targets beer-based drinks that also feature caffeine, such as the malt-liquor energy drink Four Loko.


Some universities also have banned boozy energy drinks from campus while the federal Food and Drug Administration reviews their safety, and U.S. Sen. Chuck Schumer, D-N.Y., called Wednesday for a ban in his state.


Democratic Gov. Chris Gregoire, who requested Washington's ban, said a strong caffeine-and-alcohol combination could encourage drinking too much by masking alcohol's regular depressant effects. She also said alcohol-based energy drinks — sometimes fruit-flavored, often sold in brightly colored cans — are too appealing to young drinkers.


"It's no different than the kind of appeal that Joe Camel had to our kids when it came to cigarettes," she said Wednesday.


Alcoholic energy drinks drew national attention after an October party in Roslyn, a picturesque mountain town known as the place where part of the 1990s television series "Northern Exposure" was filmed.


Nine Central Washington University students who drank Four Loko were hospitalized with blood-alcohol levels ranging from 0.12 percent to 0.35 percent, and a female student nearly died, university President James L. Gaudino said. A blood-alcohol concentration of 0.30 percent is considered potentially lethal.


Police reported a chaotic scene, with students passed out and so drunk officers originally thought they had overdosed on drugs.


All the hospitalized students were inexperienced drinkers — freshmen ranging in age from 17 to 19. Toxicology results showed no drugs in anyone's bloodstream, other than a small amount of marijuana, university police Chief Steve Rittereiser said.


Some students admitted drinking vodka, rum and beer with Four Loko, which is made by Phusion Projects Inc., of Chicago. A Phusion spokesman did not immediately respond with comment on Washington's ban, but the company has said it takes pains not to market to underage drinkers.


Washington's emergency ban specifically covers products that combine beer, strong beer or malt liquor with caffeine, guarana, taurine or other similar substances found in regular energy drinks.


Washington's beer and wine distributors were troubled by the quick turnaround to remove Four Loko and similar products from store shelves. They had hoped the state Liquor Control Board would give the industry a month to handle the change.


Lobbyists for the Washington Beer and Wine Wholesalers Association said the ban would affect about $3 million worth of products already in retailers' hands, much of it in convenience stores.


Any drinks that can't be sold before Nov. 18 could be returned to wholesalers. Those distributors aren't obliged to buy the products back, but probably will to maintain good standing with their retail customers, lobbyist Ron Main said.


It will then be up to the wholesalers to find a way to return the product to manufacturers or move it to other states.


"We're not going to be able to move $3 million in inventory in a week," Main said.


Washington's ban is good for 120 days, but could be made permanent by the state Liquor Control Board or Legislature.

Associated Press Writer Shannon Dininny contributed to this report from Yakima.
Tell a Friend
•
Site Map
•
Print this Page
•
Email Us
•
Top