Business News
Mexico's $80M Boom Industry: Bulletproof Cars

David Agren - USA TODAY
go to original
November 15, 2010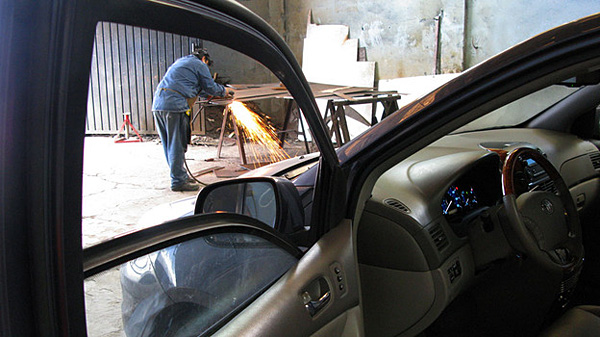 A recent NPR report highlighted the growth of bulletproof glass businesses south of the border. As Mexico's drug wars intensify, so too, grows the need for armored vehicles. (NPR/Jason Beaubien)
Mexico City — Carlos Nader drives the congested streets in a bulletproof Mercedes-Benz equipped with pepper spray and a 120-decibel alarm.


He has had bullets bounce off the car and once scared off an assailant by blasting his alarm, which is as loud as a jet engine.


Nader knows his car makes him a target of kidnappers and thieves in a country that has an "alarming" rate of carjackings and ransom abductions, according to the U.S. State Department. In Mexico these days, "everyone's a target," said Nader, owner of Protecto Glass International, a vehicle armor company.


A growing number of Mexicans — including many from the middle class — see bulletproofing their vehicles as a necessity and not a luxury.


Nader says the typical customer these days "is a regular guy that works, maybe he has a small business and he's been approached by criminals to steal his car."


"You'll see Hondas, small SUVs ... pickups," Nader said of some of the vehicles arriving at his business.


Extortion is now commonplace in some regions of Mexico. Kidnapping has soared by more than 300% over the past five years and since December 2006, more than 28,000 Mexicans have died in killings blamed on drug-cartel violence.


The violence has sparked a jump in bulletproofing.


'Looking for protection'


Although exact figures for the industry are unavailable to the public, the Mexican Association of Automobile Armorers, an industry group, reports an annual growth rate of 10% in recent years and values the market at $80 million per year. Automakers such as Mercedes-Benz, Volvo and Volkswagen sell bulletproof models in Mexico dealerships. A bulletproof Volkswagen Bora, a model similar to a Jetta, sells for $70,000.


Some armoring companies report backlogs for a process that takes up to 12 weeks and costs up to $80,000.


"If you brought me your car right now, I couldn't receive it until February," said Esteban Hernandez Lopez, managing director of Auto Safe International in Mexico City.


Twenty years ago, armored cars barely existed in Mexico. Bulletproofing was only for the wealthiest businessmen and most powerful politicians. Today, armoring companies say they armor Ferraris for celebrities, SUVs for executives and politicians, and even Nissans for young professionals and small-business owners.


The demand for bulletproofing has created a bonanza for U.S. companies.


The Texas Armoring Corp. of San Antonio reports a near quadrupling of its Mexican business over the past five years and a strong demand for rush deliveries. Executive Vice President Jason Forston says he has noticed growth at the lower end of the market.


"In recent years ... it's not only that really elite market. You're seeing a lot more people from the middle of the market, upper-middle-class folks, looking for protection," Forston said.


He says he has armored cars made by Kia, the modestly priced South Korean carmaker, for Mexican clients.


Nader says even clients who can afford high-priced vehicles often drive "low-target cars."


"They want to become a regular person on the street," he says.


Nader joined the industry in 1993 shortly after being shot in the leg during a holdup. At the time, there were fewer than five bulletproofing companies in Mexico. He estimates that today there are more than 90 companies in the business.


False sense of security?


The industry took off with the 1994 kidnapping of billionaire banker Alfredo Harp Helu, who was freed after 106 days after his family reputedly paid a $30 million ransom.


The rise in kidnappings helped the business as well. Anti-crime groups here say Mexico City is No. 1 in the world in kidnappings for ransoms or cash that a victim is forced to withdraw from ATMs.


Nader suspects that the spread of such "express kidnappings" was a big reason for the rise in demand for his services among people of more moderate incomes.


"Bulletproofing became more democratic," he said.


After the wealthy invested more heavily in security and became harder targets, kidnappers went after greater numbers of victims who paid smaller ransoms, he said. Kidnapping became a volume business.


Mexico's government is concerned that people driving bulletproof cars have a false sense of security.


Raúl Tovar, spokesman for the Mexico City Public Security Secretariat, said drivers of such cars may shun normal safety precautions such as not taking the same route to work or school every day.


"People don't have a culture of following safety procedures, but instead have a bulletproof vehicle," Tovar said.


And along with honest citizens has come another kind of client: drug cartels.


Sen. Felipe González, president of the public security commission for the Mexican Senate, says the industry needs tighter control and a customer registry to restrict the improper purchases of bulletproof vehicles and other bulletproof items such as jackets and body armor.


No one in the industry disputes that the cartels use bulletproof vehicles, but they deny selling to criminals.


Forston of Texas Armoring says three government departments must vet any foreign sale. Nader says he never sells to criminals and pointed out that "the bad guys have their own armoring companies."

Tell a Friend
•
Site Map
•
Print this Page
•
Email Us
•
Top