Business News
This Will Be the Infrastructure Administration: Calderón

Suzanne Stephens Waller - Presidencia de la República
go to original
November 29, 2010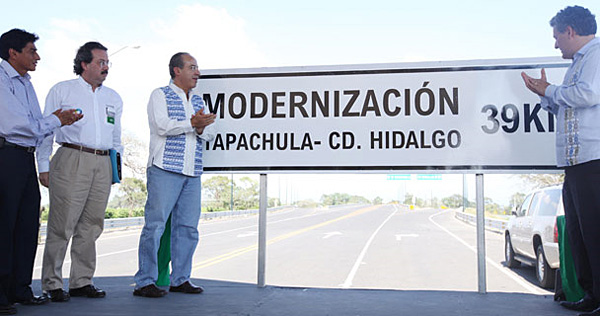 (Presidencia de la República)
Tapachula, Chiapas - President Felipe Calderón declared that this administration has built a new highway system, making it the infrastructure administration, as he promised at the start of this government.


"In the four years since I have been president, we have already built or modernized more roads than during any other administration in Mexico. Over 15,000 km of roads," he said.


On tour in the state of Chiapas, in Tapachula, the President declared that in that state alone, 8.5 billion pesos of the budget have already been invested, together with other two billion pesos in private investment.


During the inauguration of the Tapachula-Ciudad Hidalgo Highway, accompanied by state governor Juan Sabines Guerrero and Secretary of Communications and Transport Juan Molinar Horcasitas, the President declared:


"Our roads must be more efficient and we are on the way to achieving this. This is proof that with government effort and capacity, the federal government I direct, the state government run by Juan Sabines, the people of Chiapas, Mexicans, local and federal governments are working together to build a better future for Mexico."


In this respect, President Calderón added that the Tapachula-Ciudad Hidalgo Highway involved an investment of 940 million pesos and that its construction created nearly 2000 direct and indirect jobs and over 100 permanent jobs for operating this highway. He added that travelling time will be reduced from six to four hours.


He stressed that work is being done to make traffic from Guatemala to Mexico quicker. As a result, access in the Suchiate II and Rodolfo Robles border bridges is being speeded up which will boost trade to the region.


"Mexico and Guatemala are two sister nations, while there are particularly close links between Chiapas and Guatemalans.


The trade that takes place in this zone for example, is important trade due to the goods and services we can offer our Guatemalan borders and the goods, services and labor of Guatemalans in this country, which we appreciate, he added.

Tell a Friend
•
Site Map
•
Print this Page
•
Email Us
•
Top