Entertainment | Restaurants & Dining
The Chef's Table with Nicole Pederson at Kaiser Maximilian

Laura Gelezunas - VideoDivaProductions.com
November 16, 2010
The XVI Festival Gourmet Chef's Table Dinner at Kaiser Maximilian will take place on November 17th at 8 pm. The cost is $92 USD per person and reservations, which can be made online by clicking HERE, or by calling (322) 222-5058, are required. (video by VideoDivaProductions.com)
The guest chef is slicing into fresh ingredients for the 16th Annual Festival Gourmet at restaurant Kaiser Maximilian in Puerto Vallarta. Nicole Pederson is the executive chef at C-House restaurant in Chicago.


"Andreas, owner of Kaiser Maximilian, contacted me about six months ago and asked if I would like to maybe come down and be part of the gourmet festival," says Nicole, "And really, he didn't even have to ask, of course, I told him. I was very excited, totally thrilled, and honored that I get to be a part of such an awesome festival that's been going on for 16 years."


She draws inspiration for her creations from locally grown, in season ingredients and was happy to find many items available in Puerto Vallarta. At C-House they are definitely farm to table and totally very seasonally driven. Nicole was more than pleased with the variety fresh ingredients that are available in the area. They could find really great apples and beautiful pears and Asian pears and all kinds of different greens plus a variety of mushrooms.


Working as an executive chef was not always in Nicole's game plan.


"When I was 19 years old I was working in a French bistro in St. Paul, Minnesota, the chef in the kitchen came to me one day and asked me why I was working out front and not working in the kitchen", says Nicole, "I thought he was totally crazy and I said I would never do anything like that and he said you know more about all of the dishes than any of the cooks do and you spend your entire day in the back watching the guys break down the fish and the beef. So a couple of months later my boyfriend at the time dumped me and I thought it was a good idea to go to culinary school. It was the best decision I ever made. I am very happy in my career choice. and I think some day I would like to own my own restaurant that would be great."


This is not Nicole's first time in PV but on this trip she quickly became aware of the noteworthy restaurants. "Overall I was totally impressed with Puerto Vallarta as a culinary scene and the food here is just amazing, there are really so many great restaurants and really great chefs and the guys in the kitchen at Kaiser Maximilian are really awesome, you show them something once and they just pick it up and run with it, so it's great."


Be sure the check out all of her special menu offerings at Kaiser Maximilian during the Festival Gourmet 2010.


Click HERE for a pdf download of Kaiser Maximilian's special 6-course Chef's Table Dinner menu.
---

Open Monday-Saturday from 8 am to 11 pm for breakfast, lunch and dinner, Kaiser Maximilian Restaurant & Cafe is located at Olas Altas #38B in the Zona Romántica of Puerto Vallarta. For reservations call (322) 222-7981 or visit KaiserMaximilian.com


Click HERE to read more about Kaiser Maximilian.
---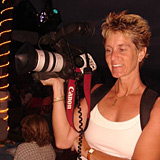 After having spent 10 years in the world of US broadcast news, Laura Gelezunas decided to unleash her skills on Puerto Vallarta by opening Video Diva Productions, a full-service, professional digital video company. Whether you're interested in a sales video, WEBmercial, music video, feature story, documentary, or corporate event video coverage, Laura has the experience, equipment and talent to coordinate a professional production. For more information, click HERE or visit her website at VideoDivaProductions.com.
Tell a Friend
•
Site Map
•
Print this Page
•
Email Us
•
Top