Entertainment | Restaurants & Dining
Riviera Nayarit Is Preparing A Cosmopolitan Celebration for the Opening of the International Gourmet Festival

RivieraNayarit.com
go to original
November 04, 2010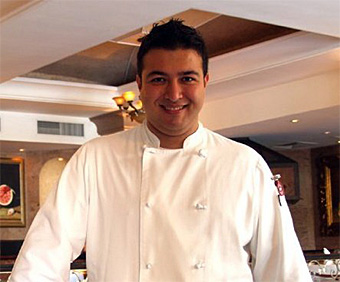 Festival Gourmet Chef Eugenio Villa la Estancia
The XVI International Gourmet Festival taking place at Riviera Nayarit and Puerto Vallarta is bound to offer a representation of the cultures and flavors of five continents. The participation of chef Eugenio Villafaña of the Villa La Estancia hotel guarantees diners will enjoy one surprise after another at the Festival's opening gala.


The host chef described the wonderful experience he had while designing the gala's menu together with the guest chef David Reyes. The process involved taking apart traditional recipes and rebuilding them to offer a true culinary extravaganza for the palate.


David Reyes is a Chicago native that has worked at prestigious restaurants throughout the world. During this process, he has picked up traditional recipes to eventually create dishes that perfectly blend contemporary cuisine with the inspiration he obtains from the places where he has lived.


Reyes shares the same cosmopolitan experience as the host chef. Villafaña has been an executive chef for a major cruise line, and has also traveled around the world going form port to port, always picking up a small taste of the local fare. The combined talent of these chefs and their first hand knowledge of traditional dishes guarantee a true feast for participants. Chef Tlaltekiti Riviera has also worked intensively with them, and has been an instrumental part of this project.


However, this multicultural display of taste and culinary creativity will not be the only element to surprise guests. Villa La Estancia has also prepared an exhibition of world cultures with music, dance and even fireworks.


The International Gourmet Festival will be the meeting point for chefs from all over the world - chiefly renowned exponents of the Mexican culinary scene - who will celebrate the bicentennial of the Mexican Independence and the centennial of the Mexican Revolution, exchange ideas with local chefs, and at the same time, offer their creations to visitors, and even show them a couple of their cooking secrets.


Thierry Blouet, Heinz Reize and Roland Menetrey, founders of the Gourmet Festival and icons of the local culinary scene, mentioned that this edition will incorporate a new approach to the original concept, like the chef's table, Tequila samplings, wine and cheese tastings, cooking classes and simultaneous translation.


Eleven restaurants in Riviera Nayarit will participate with a wide range of influences and tendencies. La Casona de Villa La Estancia will participate together with Café des Artistes del Mar at Hotel des Artistes, La Cruz Bistro Grill, Omaggio at Marival Residences, Nicksan, Luca at Grand Velas, Tramonto at Grand Mayan, La Casona at Villa La Estancia, Porto Fino at Dreams Villa Magna, El Delfín at hotel Garza Canela in San Blas, Emiliano Restaurant in Tepic y Ketsi at Four Seasons.


The Convention and Visitors Bureau (CVB) of Riviera Nayarit supports the organization of culinary events with the strong belief that gastronomy is a factor that contributes to attract tourism. Events like this one are possible because of the intense joint work headed by Nayarit's Governor Ney Gonzelez Sanchez.


About Riviera Nayarit: Mexico's newest destination, Riviera Nayarit, stretches along 192 miles of pristine Pacific coast framed by the majestic Sierra Madre Mountains just ten minutes north of accessible Puerto Vallarta International Airport. The region extends along the entire coast of the Pacific state of Nayarit including the resorts of Nuevo Vallarta, the historic colonial town of San Blas, exclusive Punta Mita, picturesque fishing villages, miles of serene beaches and spectacular Banderas Bay. Riviera Nayarit offers countless activities, all pleasantly affordable, such as: PGA golf courses, luxury spas, whale watching, turtle release, zip lining, surfing, record deep sea fishing, bird watching, international cuisine, and shopping for local artwork and traditional Huichol handicrafts. The region attracts and satisfies vacationers of all tastes and budgets with its wide range of accommodations including chic luxury resorts, eco-tourism boutique hotels and quaint B&B inns. Visit the website at RivieraNayarit.com
Tell a Friend
•
Site Map
•
Print this Page
•
Email Us
•
Top