Entertainment | Restaurants & Dining
Cruisers Now Find Organic and Natural Foods in Mexico

Capt. Pat Rains - The Log
go to original
November 15, 2010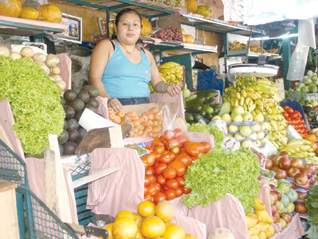 Produce markets in Mexico, such as this one in Ensenada, are more like European village markets, where shoppers buy what they need for today and tomorrow.
Mexico has always been famous for delicious food, but southbound boaters this year are finding more vegetarian restaurants, locally produced organic produce, health food stores and health-conscious menus, without traveling too far from the waterfront.


Here is just a sample of interesting places — some well known, some not - to check out in major cruising ports and hidden getaways alike, for provisioning your galley with natural foods and for eating healthy when ashore.


Ensenada: La Sonrisa (meaning "the Sunrise") is a vegetarian fast-food restaurant with a lunch counter, located five blocks inland from Marina Baja Naval on the corner of Alvarado and Juarez. Ensenada also has at least a dozen small produce markets.


Cedros Village: If you've cleared into Mexico at Ensenada, you can clear into this sheltered anchorage and come ashore for real abalone sausage served in both restaurants in town — El Marino and La Pacenita. It is sometimes also available for purchase, if you give them a few hours notice.


Bahia Tortugas (Turtle Bay): La Purisma Supermercado has the best fresh produce within 200 miles — and much of it is locally grown and organic. Stock up on avocados to make guacamole and limes for your own ceviche.


Puerto San Carlos: Inside Bahia Magdalena (Mag Bay), this little port's best restaurant, El Galeon, cooks with organic produce from Ciudad Constitución, Baja California's main farming district nearby. It also offers fish and lobster, fresh caught from the panga out back.


Cabo San Lucas: Markets are set up in different locations on different days, so visiting boaters have choices. Pedregal Organic Market (open 8 a.m.-noon Wednesdays) overlooks the inner harbor and has many produce vendors, but also offers free-range chicken, fertile eggs and fresh local fish, plus healthy prepared dishes to go — including lasagna, tamales and quiche — and even shooters of fresh wheat grass juice.


Mar Adentro Organic Market, (open 7:45 a.m.-1 p.m. Wednesdays and Saturdays) under a tent on Medano Beach above the outer anchorage, features locally grown fruits, vegetables, eggs, cheeses, homemade pestos, hummus, sourdough breads and cookies.


Farmers Market at the Shoppes at Palmilla, (open 9 a.m.-1 p.m. Fridays) next to the hotel on the corridor, has organic produce, tamales, jams and gifts. For transportation, call (624) 144-6999.


Also in Cabo San Lucas, the Tutto Bene healthy food store is located near the Romeo y Julieta restaurant, off the inbound highway from Todos Santos. Call Tutto Bene for directions and hours, at (624) 144-3300.


San Jose del Cabo: The region's oldest and largest organic market — Mercado Organico — opens Nov. 6 for the winter cruising season. Its hours are 9 a.m.-3 p.m. every Saturday until May 2011. This is a great place to stock up on holiday tamales and live potted herbs to grow on board. Vendors sell their organic farm produce, baked goods, pitahaya jam, candied cactus and sage honey, plus lots of prepared foods you can sit down and eat in the new dining area. San Jose's Mercado Organico has brand-new restrooms and a children's playground. You'll also find hand-painted art to wear (it's very hip). For more information, visit sanjomo.com.


Todos Santos: Pura Vida organic grocery store just opened under new owners, in the Posada del Molina shops. It specializes in hard-to-find provisions — such as quinoa (a wheat-free grain), soy products, gluten-free products and Thai kitchen staples. It also has a small deli with homemade treats, including desserts sweetened only with local dates.


La Paz: Las Tres Virgenes restaurant serves menu items made with all organic, locally grown ingredients. It has a fabulous dinner menu, and is moderately expensive. Las Tres Virgenes is on the corner of Madero and Constitución, about halfway between Marina de La Paz and the Singlar Marina.


Organically grown and pesticide-free produce is sold in five La Paz grocery stores. In both CCC (Centro Comercial California) locations, in both Aramburo's grocery stores and in the Casa Ley supermercado, you'll find a specially marked Organicos section.


All three farmers' markets here sell fertile and unrefrigerated eggs, homemade regional cheeses (sometimes goat cheeses, too) and golden empanadas stuffed with local fruit jams or cheeses.


Puerto Escondido: Farmers from Ciudad Constitución (called the "bread basket" of Baja California) bring pickup loads of local fresh-picked fruits and veggies right to the marina parking lot. They fill orders for next week as well. Ask on the morning cruisers' net (VHF 22) when the next veggie truck arrives.


Mazatlan: On the Zona Dorada (golden zone) south of Marina El Cid and Marina Mazatlan, Pura Vida restaurant's menu specializes in breakfast, lunch and dinner entrees made with organic ingredients as locally grown as possible.


Puerto Vallarta: El Estudio Café in Nuevo Vallarta Inlet (which overlooks both marinas) makes its own healthy breads for sandwiches, and all ingredients are organic and locally grown. El Estudio Café is open for breakfast, lunch and dinner.


About 2.25 miles south of Marina Vallarta, Mary's Restaurante Vegetariano on Brazil Avenue is one of Puerto Vallarta's only true vegan eateries, with many soy and non-meat entrees. Mary's serves breakfast till noon, then its $6 all-you-can-eat buffet is available from 1-6 p.m.


Agro Gourmet Organics is a produce market (open daily) that caters to vegetarians and healthy eaters. It offers everything from salad greens and herbs to bulk grains — and it is located downtown, on the corner of Badillo and Vallarta streets. Chefs from the area's best restaurants buy here.


For more exotic imported fruits and vegetables (such as raspberries, pine nuts, butter lettuce and pippin apples) and gourmet ingredients that are difficult to find in Mexico, cruise through Fruit Forest Mercado, located on Badillo Street one block inland from Agro Gourmet Organics.


Tenacatita Bay: Fruteria Dalia in the village of La Manzanilla is handy for fresh local produce, jars of unfiltered honey, free-range eggs and cones of raw sugar flavored with vanilla.


Barra Navidad: On Veracruz Street Landing, overlooking Barra's interior waterfront, at least two local farming families bring pickups loaded with organically grown fruits, vegetables, free-range eggs and traditional bakery items. Bring your dinghy to the Sands Hotel and walk over, or hail a water taxi on VHF Channel 23.


The French Baker delivers fresh croissants to boats in the free anchorage and in Marina Isla Navidad, every morning. It also sells fruit pies. The croissants may be more delicious than "healthy," made with lots of butter — and they're impossible to find elsewhere.


Zihuatanejo: Take a dinghy ashore from the anchorage off Playa La Ropa to reach the beachfront restaurant in the Tides Hotel. They offer vegetarian options to most of their meat entrees for lunch and dinner, along with lots of healthy appetizers and soups, plus a separate vegan menu. Visiting boaters like the outdoor seating, where they can watch their boats swinging in the bay.
Tell a Friend
•
Site Map
•
Print this Page
•
Email Us
•
Top