Health & Beauty
Dr. Curiel on Cardiac Stress Testing

Pamela Thompson - PVNN
December 26, 2010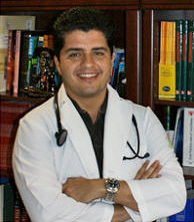 Dr. Adolfo Curiel, cardiologist
HealthCare Resources is pleased to work closely with Dr. Adolfo Curiel, a bi-lingual cardiologist. As we move through various topics/interviews with our physicians, we have interviewed Dr. Curiel regarding treadmill stress testing.


HCR: What exactly is a treadmill stress test?


Dr. Curiel: Exercise is a common physiological stress used to elicit cardiovascular abnormalities not present at rest and as well, to determine adequacy of cardiac function. Exercise electrocardiography (stress test) is one of the most frequently used, non-invasive modes used to assess patients with suspected or proven cardiovascular disease. The test is mainly used to estimate prognosis and to determine functional capacity, the likelihood and extent of coronary artery disease and the effects of therapy.


HCR: Why would a person need a treadmill stress test?


Dr. Curiel: The most frequent indications for exercise testing are to aid in establishing the diagnosis of CAD (Coronary Artery Disease), to determine the functional capacity and prognosis. Exercise testing is considered appropriate for the purpose of diagnosis in most adults with an intermediate probability of CAD. Also, in patients undergoing initial evaluation with suspected or known CAD. Other indications would be post-myocardial infarction (before, early and late afterwards for prognostic assessment and prescription activity) and in patients after re-vascularization (after angioplasty, after stent placement or after coronary artery bypass graft surgery).


HCR: How is the test performed?


Dr. Curiel: Patient is instructed to not eat, drink caffeinated beverages or smoke for three hours before the test. Wear comfortable clothing, shoes. Unusual physical exertion should be avoided pre-testing. Brief history and physical exam is performed and patients should be advised of risks and benefits of the procedure. After the cables are connected to the treadmill, walking is demonstrated to the patient. The heart rate, blood pressure and EKG are recorded at the end of each stage of exercise and after stopping exercise.


HCR: How is the test interpreted? What is looked for?


Dr. Curiel: There are several EKG measurements that are assessed. The most important is the measurement of the ST segment displacement in the T-wave. Using these measurements, the test is determined to be positive or negative. There are also some non-EKG observations such as blood pressure, heart rate response, maximal work capacity that are measured. It is important to note that the characterization of chest discomfort can be a useful diagnostic tool, particularly when the symptom complex is compatible with typical angina. In other words, we can say that the test is positive because of the symptoms even if we do not have EKG changes.


HCR: Is it a reliable test?


Dr. Curiel: The sensitivity of the exercise EKG in patients with Coronary Artery Disease is approximately 75%, specificity is 80%.


HCR: Thank you Dr. Curiel!


It is important to note that a cardiac stress test should be performed by a cardiologist.


HealthCare Resources invites you to attend "Breakfast with a Cardiologist" – a new monthly program with rotating cardiologists. Dr. Curiel will be our "breakfast doctor" on January 4, 2011, 9am at Hospital Medasist, 4th floor. No charge. RSVP required. In addition, HealthCare Resources has put together a cardiac package to include a consult and stress test.
---

Pamela Thompson has lived and worked in Puerto Vallarta for over 17 years, 10 of them in health care. Pamela now leads HealthCare Resources Puerto Vallarta, a local healthcare resource network. Her years of experience and expertise are available to you by emailing your questions to pamela(at)healthcareresourcespv.com or by visiting HealthCareResourcesPV.com.


Click HERE to learn more about the health and well-being services offered by HealthCare Resources Puerto Vallarta.
Tell a Friend
•
Site Map
•
Print this Page
•
Email Us
•
Top