Health & Beauty
Cabo Corrientes Women To Receive Free Medical Massage

Dr. Rudolph C. Ryser - PVNN
December 27, 2010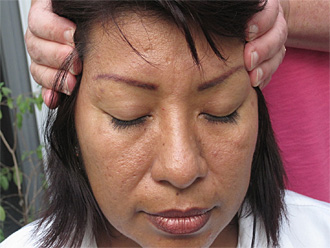 For more information contact Leslie Korn at 322-225-8151 or lekorn(at)cwis.org (photo by Rudolph Ryser)
Leading a team of massage therapists, Dr. Leslie E. Korn, has invited rural women residents in Cabo Corrientes to participate in the Cabo Corrientes Medical Massage Project (CCMMP) beginning in January 2011. The project is sponsored by the Center for World Indigenous Studies (CWIS), an American Indian led organization under a grant awarded by the American Massage Therapy Association in Evanston, Illinois, USA.


To receive free medical massage interested clients in Cabo Corrientes are invited to contact Dr. Korn and certified/massage therapists who are interested in volunteering can reach Dr. Korn at: 322-225-8151. Clinic days will be set up in Yelapa, El Tuito, Ipala and other villages. Dr. Korn will be at the Farmers Market on January 1st promoting the local herbal medicine book that came out of this project, the sales of which support the project.


The CCMMP Project is an expansion of the medical-orthopedic massage project that Dr. Leslie Korn, clinical director of the CWIS Center for Traditional Medicine, introduced in 1977 in Cabo Corrientes and later in Puerto Vallarta to serve the needs of rural people who often lack access to treatment.


Though the project focuses on the needs of women, a team of Mexican and non-Mexican massage therapists will provide free treatment to women, men and children alike. Korn has invited several of colleagues from the United States this winter to provide advanced training to local massage therapists as a part of the project to comprise an intercultural exchange of techniques and ideas. Additionally local herbal massage oils will be provided and self care, including stretching and hydrotherapy will be taught.


"People living in rural settings are exposed to a variety of health hazards that respond well to massage. These include accidents or work related in juries, such as falls, twisted ankles or hands, elbow and wrist arthritis due to repetitive strain such as grinding and chopping," according to Dr. Korn.


Korn developed several specific protocols for the treatment of diabetes-related problems such as diabetic neuropathies, poor circulation and asthma. She developed one procedure as part of her research funded by the US National Institutes of Health to reduce stress, depression and pain in American Indian Dementia Caregivers.


One of the special aspects of these procedures is that they can be done with clothes on or off. "Rural individuals are by nature very modest and our goal is meet the needs defined by the women and men themselves," explained Korn


Describing the effects of the massage procedure, Dr. Korn plainly stated, "We know that touch improves circulation, reduces lactic acids, reduces autonomic nervous system reactivity, improves lymphatic and immune function. Plus it improves our mood by stimulating brain endorphins and helping us to move the body with greater comfort. In this age of too many pills and indiscriminate surgeries, healing touch provides a profound response to our needs as humans to connect therapeutically on a physical emotional and spiritually."
---

Dr. Leslie Korn is an educator and clinician-healer specializing in complementary/alternative medicine and indigenous healing methods, who has been conducting research in the Banderas Bay and Cabo Corrientes regions since 1973. To learn more about her work, visit DrLeslieKorn.com.


Click HERE to read more articles by Leslie Korn.
Tell a Friend
•
Site Map
•
Print this Page
•
Email Us
•
Top