News from Around Banderas Bay
Sayulita Postcard: Saturday at the Beach

Ed Schwartz - PVNN
December 06, 2010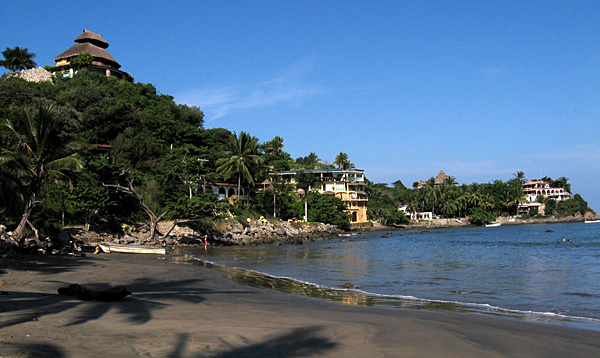 Sayulita is only 25 miles northwest of Puerto Vallarta, yet it feels worlds away.
There generally isn't much hard news emanating from Sayulita, so one has to dig for feature stories. Like today. A quiet Saturday.


We were at the beach on this fair day. Our youngest grand daughter, Stella, made the mistake of petting a rather large dog so the dog stuck around our chairs. When Stella decided to go into the water she took off her shorts to reveal her bathing suit and flung the shorts on the sand. The dog saw some kind of sporting opportunity here, so it picked up the shorts in his teeth and headed swiftly down the beach.


Stella reacted quickly and started running after the dog, but the dog was very good at dodging, even with a pair of shorts in its mouth. She finally caught up with the dog, who by this time and taken the shorts into the water. For us, this was high adventure and gave us a very good and long laugh. It was definitely a "photo-op," but no one had brought a camera.


After the shorts issue, we looked around the beach and saw that dozens of silver-sided sardines had washed up on one part of the beach and were very dead. Our son-in-law, Richard, saw this as an architectural opportunity to build a fort out of sardines, since the sardines were very stiff and were able to stand straight up. I am pretty certain that this has never happened before. I dubbed the project "Fort Fish." It may never happen again, let us hope.


When we came back from the beach, I was driving our car and I noticed one of the side roads was blocked with dozens of chairs distributed in rows right on the road. Sadly, this is not a unique event. There is no indoor place to hold a funeral service, so the local folks simply block off a street and use it as an outdoor auditorium for the service.


A young man, while driving drunk, veered off the road and died in the accident. Young people down here do a lot of drinking and driving, often with the same dire results. There are many memorial markers on the road to attest to bad driving habits.


Bambi reminded me that this was the second day in a row the road had been closed.


I also completed a series of small paintings of famous dogs of history, like Johann Sebastian Bark, Whistler's Mutter, Corgi and Bess, St. Bernard Madoff, The Doge's Dog and Cassie at the Bat, the latter being the name of my daughter's mutt.


We finished up this day by having dinner at Tierra Viva right off the square in Sayulita. The mole is really good - dark brown and spicy, but not too spicy. And so, to bed. Enough excitement for one day.


Ed Schwartz has been involved in many aspects of fine wine for 30 years and has worked with top wineries in California, Italy and France. His writings on wine, food and travel have appeared in the SF Chronicle, LA Times and Image magazine.

Click HERE for more articles by Ed Schwartz
Tell a Friend
•
Site Map
•
Print this Page
•
Email Us
•
Top