News from Around Banderas Bay
Fusión de Sentidos: Fiesta Vallarta 2011

Daniel Gomez - MijoBrands.com
December 13, 2010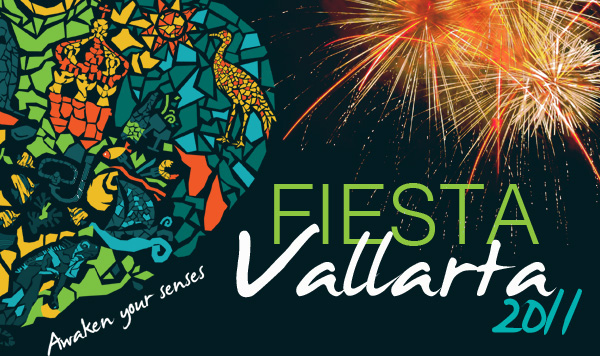 Puerto Vallarta New Year's Eve Party, 'Fusión de Sentidos: Fiesta Vallarta 2011' will start at 7 pm at Los Arcos Amphitheater on the Malecón.
New Year's 2011 looks set to make a big impact this December 31. This year, Puerto Vallarta's Mayor and City Hall have teamed up with the Bureau of Visitors and Conventions and the Fideicomiso (the public body that promotes tourism) to prepare an cultural event for the Malecón in the heart of Puerto Vallarta's historic center.


The New Year's Eve event is being used as the platform to publicly launch the city's new official website VisitPuertoVallarta.com. The new portal, under the custodianship of the CVB was programmed and designed by Mijo! Brands, a Puerto Vallarta-based communications company. The 6-month web project has seen the city work closely with the state government to give Puerto Vallarta a crisper, cleaner image online in order to increase tourism to the destination.


The event, "Fusión de Sentidos: Fiesta Vallarta 2011," spearheaded by Director of Tourism José Luís Diáz Borili, was conceived by Mijo! Brands to raise public awareness of, and support for, the new portal. The official portal, which will boast a fully integrated online reservation system for hotels, tours and restaurants was designed to increase tourism to the destination.


Fiesta Vallarta 2011 is scheduled to take place at Los Arcos at the south end of the Malecón and feature a roster of acclaimed local and international entertainment beginning at 7:00 pm. The event, hosted by local radio celebrity Elidee Hernandez, has tentatively scheduled a variety of local and international talent to entertain the crowds during the count down to the new year.


Performers include the young Paz singing classic Mexican and international ballads; the wildly popular The Zippers band playing a cross-section of everything from the best pop-rock of the 70s to today's hits; an acrobatic troupe from Guadalajara; a folkloric dance troupe, and 2 international DJs, including award winning Max Graham (Canada) and Vadim Zhokuv (Russia).


Antonia Lavender, director of commercialization for the website, commented that "there has been little press regarding the new design of the website because it is still a work in progress. The city agencies have been working hard to enhance Puerto Vallarta's image both at home and abroad. I think every one in Puerto Vallarta is ready for a great celebration to show the world what a great destination we live in."


There are rumors of an after-party with up to 3 DJs at a leading downtown business, but the planners at Mijo! Brands are being tight lipped. A press statement on the event is expected to be delivered by the secretary of tourism on December 14. Watch this space.
---
Fusion de Sentidos: Fiesta Vallarta 2011
Daniel Gomez - MijoBrands.com
13 de diciembre 2010


Este inicio de Año 2011, se espera tendrá un gran impacto. Este año el Presidente y el Ayuntamiento de Puerto Vallarta se han unido con la Oficina de Convenciones y Visitantes y el Fideicomiso, para preparar un evento cultural en el corazón del centro histórico de Puerto Vallarta, el malecón.


El evento de fin de año es un excelente foro para dar a conocer públicamente el nuevo sitio web oficial VisitPuertoVallarta.com a la comunidad vallartense y sus visitantes. El nuevo portal, bajo la custodia de la Oficina de Convenciones y Visitantes, se ha programado y diseñado por Mijo! Brands, empresa de comunicaciones que le ha dedicado alrededor de 6 meses de trabajo en estrecha colaboración con el gobierno del estado para darle a Puerto Vallarta una nueva imagen en línea con el fin de incrementar el turismo en el destino. Este portal contará con un sistema totalmente integrado de reservación el línea para hoteles, tours y restaurantes y se concentrará esfuerzos en atraer más turismo al destino.


El evento denominado "Fusión de Sentidos: Fiesta Vallarta 2011" está encabezado por el Director de Turismo Municipal, José Luis Díaz Borili y concebido por Mijo! Brands. Dicho evento tiene como objetivo generar un sentido de pertenencia entre los locales y enriquecer la experiencia del turismo nacional y extrangero. Fiesta Vallarta 2011 tendrá lugar en Los Arcos en el extremo sur del Malecón a partir de las 7:00 pm. El evento será presentado por Elidee Hernández, famosa locutora de radio local.


Hasta la fecha se ha programado tentativamente una variedad de talentos locales e internacionales para entretener a las multitudes durante la cuenta regresiva para el nuevo año. Los artistas incluyen a la joven Paz Villaseñor, cantando clásicos baladas mexicanas e internacionales, el grupo popular The Zippers participará con una sección del mejor pop-rock de los 70 hasta hoy, un grupo de acróbatas de Guadalajara y 2 DJs internacionales Max Graham (Canadá) y Vadim Zhokuv (Rusia).


Antonia Lavender, directora de comercialización de la OCV y del el sitio web comentó que "ha habido poca prensa sobre la página web hasta la fecha debido a que es todavía un trabajo en progreso. Las agencias de la ciudad han estado trabajando duro para mejorar la imagen de Puerto Vallarta, tanto en casa como en el extranjero, creo que cada Vallartense está listo para una gran celebración que muestre al mundo que gran destino es Puerto Vallarta."


Hay rumores de un after-party con tres DJs en un importante establecimiento de la ciudad, pero los organizadores de Mijo! Brands y sus colaboradores de Espacio Urbano se niegan a confirmar. Un comunicado de prensa por el secretario de turismo sobre el evento concretará los detalles del evento el día 14 de diciembre.

Tell a Friend
•
Site Map
•
Print this Page
•
Email Us
•
Top