News from Around Banderas Bay
MacIntosh Pipe Band Puerto Vallarta Concert

Gary R. Beck - PVNN
December 07, 2010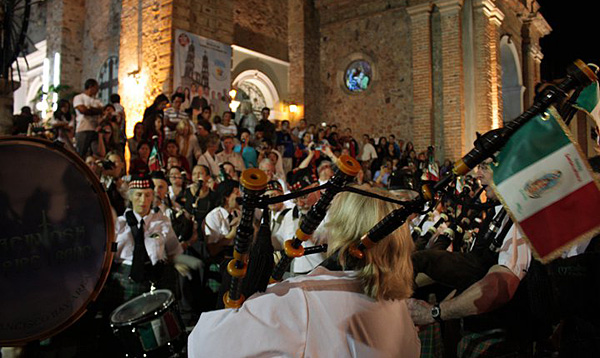 On December 4th the MacIntosh Pipe Band performed traditional music of both Scotland and Mexico at Los Arcos Amphitheater in downtown Puerto Vallarta.
On Saturday, December 4, 2010 in Puerto Vallarta, The MacIntosh Pipe Band (banda de gaitas) of San Francisco, California performed a fabulous concert at the outdoor Los Arcos Amphitheater on the Malecón.


Four drums began their beating and 15 bagpipes started blaring. In they marched to great rounds of applause. Shivers went up the spine as one realized that this was probably the first appearance and concert of Great Highlands bagpipes and drums music in our city. Curiosity of many onlookers turned to sheer joy.


Each bagpipe's tallest pipe (bass drone) and the drums were adorned with handmade vibrant Mexican flags replacing the customary one from Scotland. Coincidently, their kilts were green and red squares lineated in white.


The band leader piper revealed that though the band hails from San Francisco, only one member lives there, with the rest coming from the bay area north, east and south - not west as that is the ocean. Later she exclaimed that they were not accustomed to such a large audience, this one with people four deep standing in the rear and sides in addition to occupying all the curving rows. She declared they will return. Another band member translated the statements into Spanish.


They performed traditional music of both Scotland and Mexico. It was touching that the band introduced some not so traditional pipe band music for this special south of the border appearance.


The "Great Pipes" or "Highland Pipes" have ancestral roots to around 100 A.D. The bagpipes are one of the oldest musical instruments in the world, so much so that their actual origin and age remain unknown. Emperor Nero apparently played the pipes and not the fiddle whilst Rome burned.


The pipers played mainly the same note with some crisp harmony in several songs. There is a limited range of 8 notes using trills and grace notes. Huge familiar favorites were "Danny Boy" and "Amazing Grace," sung by their soloist Michelle White in very fine form with the band accompanying. Two young ladies entered and danced Scottish highlands gigs at intervals. It was amazing that most of their movements were balanced on their toes, all the while smiling broadly.


Hotel Los Arcos was the major sponsor and thanks were also extended to Gaviotas Hotel, Hotel Eloisa and private parties, in addition to Puerto Vallarta's Department of Art and Culture. As the concert sadly came to a completion, they circled, turned and marched as they had entered, to wonderful music and a huge standing ovation.


Right then the bells of Our Lady of Guadalupe rang in earnest as if to show support for the completed musical concert. The clanging signaled the entry of another peregrinación approaching the church.


This endeavor can only be described as a major glorious success. The award winning (including in Scotland at the annual World Pipe Band Championships, no less) MacIntosh Pipe Band is a non-profit organization featuring talented musicians who volunteer their time and talent. It was formed over 25 years ago. Many present hoped that they will return soon to the city by the bay.
---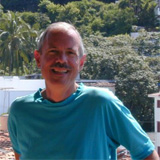 After 20 years in the San Francisco restaurant business, Gary R. Beck turned his attentions to cooking, dining out, creating recipes and exploring Puerto Vallarta's rich array of eateries. Famous for his restaurant guide, available online at CafePress.com or Lulu.com, Gary also writes restaurant reviews for Puerto Vallarta newspapers, Bay Area magazines, and now, a feature column for BanderasNews.com. Contact Gary at garyrbeck1(at)yahoo.com.
Click HERE for more articles by Gary R. Beck.
Tell a Friend
•
Site Map
•
Print this Page
•
Email Us
•
Top