Americas & Beyond
Craigslist Pulls Prostitution Ads in Canada

CBC News
go to original
December 20, 2010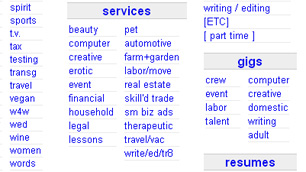 Craigslist appears to have removed the 'erotic' section from its services section after complaints from Canadian politicians. (CBC)
Craigslist appears to have pulled prostitution advertisements from its Canadian websites after months of pressure from federal and provincial politicians.


The San Francisco-based company's "erotic services" section did not appear on the majority of its Canadian home pages Saturday morning. However some ads were still on the Halifax site and a detailed search of the Toronto site brought up an ad posted as recently as Friday.


Federal Justice Minister Rob Nicholson said he was pleased the erotic services section seemed to have been removed.


"Our government was concerned that such advertisements could facilitate serious criminal offences, such as living on the avails of child prostitution and trafficking in persons," he wrote in a statement sent to The Canadian Press.


The pulling of the section blatantly selling sex — which often carried explicit pictures and price lists — comes after nearly four months of repeated requests from Canadian governments.


The company removed its "erotic services" section from its U.S. sites in September after several U.S. attorneys general said there wasn't enough protection against blocking potentially illegal ads promoting prostitution.


That prompted Ontario Attorney General Chris Bentley to write a letter, and later a second one, to Craigslist CEO Jim Buckmaster, asking him to pull prostitution ads in Canada as well.


Manitoba, Saskatchewan, Alberta and the federal government followed with letters of their own.


Bentley said he was very pleased Craigslist seems to have "answered the call" he and his provincial and federal colleagues made.


"It's an important step and an important signal," Bentley told The Canadian Press. "We're pleased Craigslist appears to have taken steps to protect women, children and the vulnerable."


Bentley said his office was working to get absolute confirmation from Craigslist, but added that Ontario was ready to take "whatever steps" it could to protect the vulnerable in the province.


"When we raised this we took the position Craigslist should do the same for Ontarians that they did for Americans," he said.


Craigslist did not immediately respond to requests for comment from The Canadian Press.


Site raised child exploitation concerns


Earlier this year, the website's reaction to Canada's request for action had been nothing more than asking for a meeting with Ontario officials. Meanwhile, it continued to allow hundreds of ads for prostitutes to be posted on its Canadian sites every day.


The realities of trafficking on the website made headlines in November when Chilliwack police arrested a 14-year-old British Columbia girl and charged her not only with prostituting herself, but with pimping out other underage girls through ads on Craigslist.


While many weekly newspapers in Canada carry explicit ads, the federal government had said they are more likely than Craigslist to exercise some editorial control to make sure the ads don't promote child exploitation or human trafficking.

Tell a Friend
•
Site Map
•
Print this Page
•
Email Us
•
Top