Americas & Beyond
Davidow to Retire as President of Institute of the Americas in May 2011; Search for Successor Begins

Institute of the Americas
go to original
December 06, 2010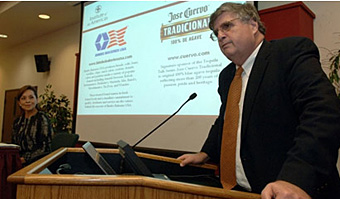 Ambassador Jeffrey Davidow, president of the Institute of the Americas, at a Tequila Talk with Mexican congressional representative Josefina Vazquez Mota. (Luis J. Jimenez)
Ambassador Jeffrey Davidow will retire from his position as president of the Institute of the Americas at the end of his second four-year term in May 2011, David Weaver, chairman of the board of directors, said.


In announcing Ambassador Davidow's decision, Weaver praised him for injecting new vitality into the Institute's programs, expanding its profile and credibility throughout the Americas and turning it into the premier center for Latin American-focused activities on the West Coast.


"Under Ambassador Davidow's leadership, the Institute has become an international leader in promoting dialogue on hemispheric economic and political issues," Weaver said. "The Board made clear to Ambassador Davidow that we would welcome his continued occupancy of the presidency, but understands his interest in moving to another stage of his impressive career."


Thousands of professionals in Latin America, the United States and Canada have attended programs organized by Ambassador Davidow and his staff to promote rational and fair government policies in the region. Weaver noted that Ambassador Davidow, Vice President S. Lynne Walker and representatives of the Institute's board of directors had just returned from China, where they met with officials to establish programs on China-Latin America relations.


Prior to assuming the Institute's presidency in 2003, Ambassador Davidow served in the United States Foreign Service for 33 years and held presidential appointments under four U.S. presidents: Ronald Reagan, George H.W. Bush, Bill Clinton and George W. Bush.


Ambassador Davidow served, among other posts, as U.S. ambassador to Zambia, Venezuela and Mexico, as well as Assistant Secretary of State for the Western Hemisphere. In early 2008, Ambassador Davidow was asked by President Obama to serve as his special advisor for the Summit of the Americas, the first occasion that the new U.S. president met with his hemispheric counterparts.


"Finding someone with Jeffrey Davidow's breadth of contacts and knowledge in the hemisphere will be a daunting task," said Weaver. "Fortunately, he has agreed to help the board of directors select his successor and intends to remain active in the Institute's governance in the future."


The application process for Ambassador Davidow's successor will begin in the coming weeks, according to Weaver, who said information is now available on the Institute's website at www.iamericas.org.

For job description and application process click here (PDF)
Tell a Friend
•
Site Map
•
Print this Page
•
Email Us
•
Top