Americas & Beyond
20th Ibero-American Summit Concludes

Xinhua
go to original
December 05, 2010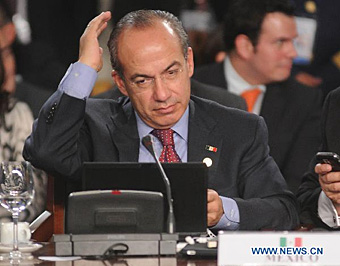 Mexico's President Felipe Calderon attends a session of the 20th Ibero-American Summit at the Hotel Provincial in Mar del Plata, Argentina, on Dec. 4, 2010. (Xinhua/Santiago Armas)
Mar del Plata, Argentina - The 20th Ibero- American Summit concluded here on Saturday with the issuance of a Declaration of Mar del Plata.


The declaration from the two-day summit, which started on Friday, included an ambitious education agreement with an investment of 100 billion U.S. dollars for the next 11 years.


During the summit with the theme of "education and social inclusion," leaders from the region pledged to "promote the universal education with quality as a fundamental and inalienable human right."


Education "will be reaffirmed as a public good, as tool to boost the daily exercise of integration and productivity," they stressed.


The leaders also aimed to "reach full literacy in the region before 2015" by strengthening alternative education.


The 57-point declaration establishes Ibero-American countries' obligation for "the development of public policies of inter- sectorial character with equity and inclusion to allow reducing the education inequality regarding access and quality at all its levels."


It also included a regional democratic clause, which will be enforced "when the constitutional government of a member state considers that there is a threat to break or alter the democratic order affecting it seriously" - for example a coup.


According to the clause, diplomatic actions should be taken by Ibero-American countries "in order to contribute to the restoration of the democratic institutional political process" in the affected state.


The participating heads of state and government also agreed to add a clause into the document to reject the "coup attempt carried out in Ecuador on Sept. 30."


In the declaration, the summit participants also expressed their "deep sorrow" for the death of former Argentine president Nestor Kirchner on Oct. 27.


The leaders also issued a Special Statement on the Malvinas Islands, supporting Argentina's call for dialogue and rejecting the unilateral actions of oil exploration in the Malvinas by Britain.

Tell a Friend
•
Site Map
•
Print this Page
•
Email Us
•
Top