Americas & Beyond
Ute/Navajo Elders Open Vail World Cup to Launch 'UN's International Mother Earth Day' Ceremonies

Suzy Chaffee - PVNN
December 04, 2010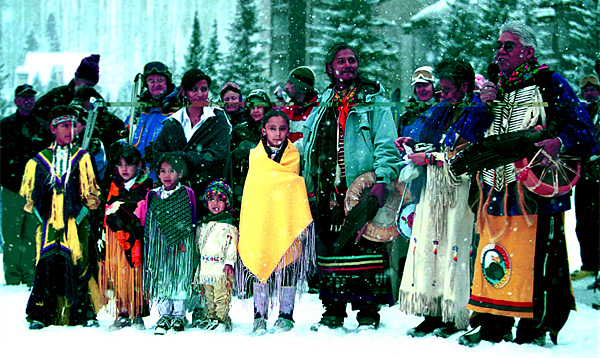 (R-L) S. Ute/Navajo Elders, Eddie and Betty Box Jr. with dancers preparing to bless downhillers on 'Birds of Prey' 10 am Saturday.
Vail, Colorado - On Saturday, December 4, 2010, renowned Southern Ute/Navajo Elders, Eddie and Betty Box Jr., along with their wonderful dancers/skiers, opened Vail's World Cup downhill event with a 'Blessing Ceremony for the Joy and Safety of Earth's Greatest Skiers,' at the finish line of Beaver Creek's 'Bird of Prey' run.


"Our Vail Ski and Snowboard Academy is so proud to be hosting the Native dancers who have become part of our Vail Family, to launch Elders-led ceremonies in communities around the world, to create more harmony with Nature leading up to the U.N's International Mother Earth Day, April 22, 2011," said Geoff Grimmer, head master of the nearby Minturn school.


The Academy, Vail Resorts, Native American Olympic Team Foundation (NAOTF), co-founded by Olympic skier Suzy 'Chapstick' Chaffee, and Native American Elders have aligned with the UN goals of healing Mother Earth, hoping these beloved athletes may be inspired to bring this eco-solution, which four Nobel winners agree upon, back to their countries.


The late 2007 Shared Nobel Peace Prizewinner, Dr. Stephen Schneider, a partner of Native American Elders, and three Nobel Laureate's Eric Chivian, Muhammad Yunus, and Joseph Stiglitz, believe that rebalancing Nature's cycles in both spiritual and practical ways, is key to transforming our Earth's eco-crisis back to a flowering Eden, which these Elders' Blessings address.


"Mother Earth – our only home – is under pressure," says United Nations Secretary-General Ban Ki-moon. UN General Assembly President Miguel d'Escoto Brockmann says, "Time to listen to the voices of Indigenous people."


Thanks to the Bolivian Mission, their co-sponsors and General Assembly, April 22 has been designated as International Mother Earth Day. "We believe that the Native Elders-led mountain blessings and snowdance ceremonies are a very timely, effective way to inspire communities around the world to embrace a new mindset that leads to living in harmony with Mother Earth. We are aligned by a mutual goal of raising awareness that humankind and Nature are interrelated and therefore so is our health. We hope Vail's event shows communities how to get in touch with their ancient roots through their Indigenous Elders (or ours), and gathers momentum toward our whole Earth Family giving more respect and joyful appreciation to help heal our suffering Mother Earth leading up to Her Day," said Ambassador Loayza from the Bolivian Mission to the United Nations.


Because the children, especially Native kids, are so important to the future of Mother Earth, and 2,000 tribes become extinct each year, Ms Sanchez, UN sustainability officer, was touched that U.S. and Canadian ski areas have been sharing the joy of skiing and boarding with tribes in their ancestral mountains, which in turn, has inspired the Elders to save ski areas from snow droughts for 50 years.


The Elders say these ceremonies help purify the mountains of toxins mainly from dirty energy and poisons in household products, to rebalance Nature's snow and rain cycles, but that is just a band-aid. We must shift to clean renewable energy and all natural products NOW to also restore our dying oceans.


Eddie Jr. is befittingly launching these ceremonies since he is son of Eddie Box Sr., 'Red Ute,' of the Southern Ute Tribal Council, who is beloved for leading the first known snowdance (with Eddie Jr. dancing), which saved Vail with a snowstorm that ended the drought in their opening years in December 1963. (CBS Huntley-Brinkley Report & snow-riders.org)


This 'Blessing of the Athletes' tradition started at Telluride's World Snowboard Championships in 1999, where participants chanted Ute Mtn. Ute Tony Tallbird's name. Following the death of the Georgian luger in training at the Vancouver Games, Suzy asked the Lil'wat and Squamish Elders to please lead a ceremony for the safety of their Olympic guests on Whistler, their ancestral mountain. Adding the joy part resulted in the fog and rain turning into rare "bluebird days."


North American Elders praise the European Union and Japan for wisely banning 35 and 49 toxins, respectively, to stop poisoning their water and air, because it alters Nature's natural precipitation cycles.  America has only banned five toxins, but we can change that by getting our representatives to support the "2010 SAFE CHEMICALS ACT (S 3209)," authored by 86-year-old skier/cancer survivor, Senator Frank Lautenberg, to protect American children who are harmed most by toxins.  His son Josh is a Vail Powder Figure 8 Champion.


Eddie praises Vail Resorts for their green leadership, like their town bike program and their 'Ever Green' development that incorporates geothermal walkways, green roofs, and hydro micro-turbines in Gore Creek for lighting, since clean energy helps restore naturally abundant snow cycles.


Tex Hall, former President of the National Congress of American Indians on the NAOTF Board, applauds Vail Academy, which has produced Olympians like Lindsay Vaughn, for pioneering next fall's inclusion of three Native American Olympic Hopefuls, like 16 year old XC star Mariah Cooper (Lac Courte Oreille-Oneida), with a hand from the Shakopee Mdewakanton Sioux Tribe of Minnesota - a former tribal enemy.


Click HERE to see the progress that Native winter athletes have made thanks to coaching in Steamboat under the wing of Olympian Billy Kidd (Abenanki), in NAOTF's "Whistler Mt Spirit Celebration" video short preview. This 'work of heart' was made possible by Ute Mt. Casino, Squamish-Lil'wat Cultural Center & Elder Ronnie Lester, Karuk, Lac Courte Oreille and Bishop Paiute Nations, Oglala Prairie Wind Casino, Taos Mt Pueblo Casino, Staples Vancouver, John Tesh, Robert Mirabel, Gene Tagaban...)


The Vail Academy is also incorporating a Native American curriculum, with Elders-led hikes and classes, headed by Bindu Pomeroy (a Buddhist Cherokee). Eddie and Betty will be teaching their first class there on Friday as well as leading a Gratitude prayer on Dec. 3 for the snow that Vail was just blessed with, "in appreciation to Grandfather (Creator) for making Mother Earth smile." More info on snow-riders.org.


For more information contact Suzy Chaffee at SuzyNativeVoices(at)aol.com or (323) 493-3877, Bindu Pomeroy at bindu.pomeroy.vssa(at)gmail.com, or visit the snow-riders.org or naotf.org websites.


Suzy Chaffee is a former Olympic skier who helped invent dancing down mountains, turned activist, journalist, filmmaker, and has worked with seven U.S. Presidents. She is now co-chairman of a non-profit partnership of the Elders of the Americas and Olympians, called the Native American Olympic Team Foundation, helping heal Mother Earth for all our children through joyful sports and education. For more information, visit Snow-Riders.org or NAOTF.org.
Tell a Friend
•
Site Map
•
Print this Page
•
Email Us
•
Top