Entertainment | Restaurants & Dining
Chaya / Cnidoscolus Aconitifolius / Euphorbiaceae: 'Tree Spinach' from the Yucatan

Leslie Korn - PVNN
December 15, 2010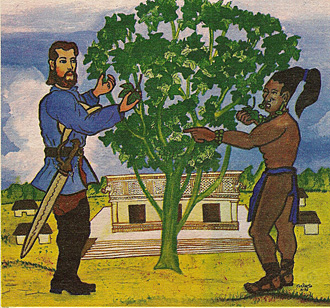 Chaya, also known as "tree spinach," was one of the first plants offered by indigenous peoples of the Yucatan to the arriving Europeans.
Chaya, also known as "tree spinach," was one of the first plants offered by indigenous peoples of the Yucatan to the arriving Europeans. Chaya (from the Mayan chay) grows easily and is cultivated near homes throughout the coast of Jalisco as a source of food and medicine. In addition to chaya, the other important local species of the Euphorbiaceae (the Spurge family) are castor oil (Ricinus communis) and poinsettia (Euphorbia pulcherrima).


Nutrition


Chaya is rich in protein and often serves as a meat substitute, and it is rich in natural antioxidants, which scavenge free radicals. Chaya contains cyanogenic glycosides, which can be a source of cyanide poisoning if eaten raw. It should be boiled for at least 5 minutes to remove all toxicity so the leaves will be safe to eat.


Chaya contains proteolytic enzymes which aid digestion and when applied topically may also account for its efficacy in treating skin problems. It is rich in minerals like calcium, phosphorus, magnesium, and iron; Vitamins A, B, and C; chlorophyll; and twice the amount of protein found in spinach or alfalfa.


One of the richest sources of nutrients among all the leafy greens, Chaya contains high levels of protein, calcium, potassium, iron, and carotene. It has shown glucose-lowering capacity in the lab and thus may be useful in preventing diabetes. The leaves are especially rich in antioxidants, which counteract aging and inflammation. Research suggests that chaya improves blood circulation, weight loss, lowers cholesterol, stimulates the liver (to improve digestion), and alleviates constipation.


Indigenous Use


Locally, in Cabo Corrientes and Puerto Vallarta, chaya is used as a food in soups and medicine. The white milky sap that comes with a bruise or break to the stem is applied to pimples and warts. Chaya can be made into a tea and used as a daily beverage to improve eyesight and prevent cataracts.


Chaya also cures skin blemishes. Ross-Ibarra and Molina-Cruz (2002) propose that the efficacy of the sap for skin problems derives from the proteolytic (protein-digesting) enzymes in the stem, and that it is useful for dry skin (if applied directly to the skin), hardening teeth, disinfecting, preventing anemia and arthritis, and regulating the menstrual cycle. It also serves as an anti-inflammatory for veins and hemorrhoids, and can be used to treat a scorpion sting. For a stomachache make a tea of chaya leaves and guamuchil (Pithecellobium dulce (Roxb.) Benth).


Research conducted by the Social Security Institute in Guadalajara on a group of over 100 individuals working in the health field found that chaya was among the most commonly used herbal medicines alongside Arnica and Epazote.


Biomedical Use


Medicinally, chaya is used to treat arteriosclerosis and weight problems, since it helps reduce carbohydrate cravings. Chaya stimulates the liver, allowing for better digestion and can also be used as a laxative. It is good for blood circulation, and for the eyes and vision if taken in an infusion for 15 days. It helps prevent cataracts due to its high content of Vitamin C. In water or tea, chaya is effective as a diuretic.


Recipes


In and around the Bahía de Banderas, chaya can be found at various fruit stands or mercados served as the base of a green drink that might be mixed with nopale or citrus fruit. It is highly valued for the treatment of diabetes and scientific research confirms its hypoglycemic effects in laboratory animals.


The Maya dice chaya and mix it with masa, vegetables, chilies or salsa and eggs and then steam it in banana leaves to make tamales.

Green Drink

Use in the morning as a natural anti-inflammatory for painful joints, sore muscles or pain.


Mix 6 leaves (boiled and cooled), a 1/4 inch of the chaya, stem, 1 cup of fresh chopped Nopale.


Add 6 oz of fresh squeezed pineapple juice ( include squeezed pineapple core as it is the richest in enzymes).


Mix boiled chaya leaves with eggs, onions, and tomatoes, or cook the leaves on a hot clay pan (comal) and add them to salads.

Chaya Rellenos

Our local recipe makes chaya rellenos in the spirit of "stuffed grape leaves."


Ingredients:


1 medium onion
1/8 head of cabbage
1 zucchini squash
4 garlic cloves
1 jalapeno chili
1/4 cup of olive oil
1 crushed garlic clove
20 chaya leaves
2 cup of dry rice
Chihuahua cheese
oregano and fresh ground pepper to taste
Optional: 1/4 kilo sautéed hamburger


Fill a pot with 4 cups of water, add a pinch of salt and add 2 cups of dry rice. Cover, bring to a boil and then turn off the burner and let finish cooking. Let cool. Dice the onion, cabbage, zucchini, garlic and chili pepper and place in a mixing bowl. Heat the oil in a large pan and add this vegetable mixture and gently sauté. Add oregano and pepper to taste. If you wish to add hamburger you may sauté ground hamburger in a separate saucepan and strain off the extra fat. Allow the mixtures to cool and once cooled mix together the vegetables and the rice (and meat).


Place the chaya leaves in a steamer and steam hard for at least 5 minutes, until soft but not overcooked. The leaves should be flexible but not too soft. Remove the leaves and allow them to cool on a smooth surface on a cutting board or paper towel. Place a large spoonful of the rice/vegetable/meat mixture on the edge of one leaf and roll up the leaf, closing the edges in as you roll. Place the stuffed leaves in a pan greased with olive oil. Repeat until all the leaves and stuffing are used. Drizzle with olive oil and bake for 15 minutes at 375 degrees.


Option 2: cover the leaves with hot tomato sauce and sprinkle cheese and bake for 20 minutes at 375 degrees until all the foods and flavors combine and the cheese melts.


Option 3: sprinkle crushed mint on the stuffed leaves and refrigerate overnight.
---

Dr. Leslie Korn is an educator and clinician-healer specializing in complementary/alternative medicine and indigenous healing methods, who has been conducting research in the Banderas Bay and Cabo Corrientes regions since 1973. To learn more about her work, visit DrLeslieKorn.com.


Click HERE to read more articles by Leslie Korn.
Tell a Friend
•
Site Map
•
Print this Page
•
Email Us
•
Top