For me, the most original and unique aspect of this film is the twelve-year-old vampire (Abby-Chloe Morentz) who headlines it. Abby is twelve physically, but beyond that she can't remember her birthday, or the actual number of years she has been living and dead. She moves into a derelict apartment building in a rural town in New Mexico with a man who at first seems to be her father (Richard Jenkins).
Owen, (Kodi Smit-Mcphee) who, prior to seeing them enter his building at night, has been spying on his neighbours through a telescope, particularly Virginia (Sasha Barresse) and Larry (Dylan Kevin), is also twelve years old.
The fact that Abby the vampire is twelve years old would normally have surprised me, if I hadn't already read the book that this movie is based on, Let the Right One In, by John Ajvide Lindqvist, and seen the first Swedish film adaptation of it a year ago.
Lindqvist borrowed the title of his novel from a song by Morrissey, eponymously titled. I've been familiar with Morrissey and the Smiths (the music group he once fronted) since I was sixteen and living in Canada. Lindqvist also quoted a passage from Morrissey's solo song, The Last of the Famous International Playboys, for his introduction to the novel: "I never wanted to kill, I am not naturally evil, such things I do, to make myself more attractive to you, have I failed?"
Let Me In begins differently from Let the Right One In, I assume for the purposes of abbreviating the length of the former (it is a Hollywood production, after all.) It begins with 'the father' in the hospital, who has burnt off his own face with some sort of acid, after being removed from a car crash, accompanied by the teenager he has, only recently, murdered. A policeman (Elias Koteas), suspecting that the burn victim is a member of a Satanic cult, interrogates him, but 'the father,' having just burned away his own mouth, cannot, of course, reply.
Interestingly, in Let the Right One In, both the novel and the movie, 'the father' is not Abby's father at all. He is a former high school teacher tried and arrested for acts of paedophilia, who Eli (now Abby) removes from his cell so that he may assist her in finding victims to kill and drain so that she might feed. One has to wonder why Matt Reeves chose to leave out this detail, while admitting pretty much everything else. Surely there are paedophiles in the United States, not just Sweden.
Throughout Let Me In, Abby denies that she is a girl; which naturally leads the viewer to assume that she means she's not human. In the novel, the reader finds that Eli (now Abby) was once a boy named Elias, who was castrated in the eighteenth century by a king.
Owen is a silent, tormented boy caught in the middle of his parents' bitter divorce. His mother (Cara Buono), after hearing reports about the strange murders happening around town, keeps an eye on him while he spends time alone at night in the building's courtyard, before she passes out from drinking wine.
She has no idea that a trio of his classmates are viciously bullying her son. After he meets Abby, and lends her his Rubik's cube, which she solves overnight, Owen tells her about these bullies and she advises him to hit back, harder. If that fails, she tells him, she'll step in, because she's stronger than she looks.
At one point, her 'father' fails to bring Abby the blood she needs, so she goes out on her own and ends up attacking Virginia and feeding off her. Later in the hospital, we see Virginia drinking the blood that has dripped onto her arm, and when a nurse pulls the curtain open, she bursts into flame.
The movie continues gloomily to its finale, with an excellent and appropriately spooky soundtrack, provided by Michael Giacchino, until Owen is nearly drowned in the pool at school by the three bullies and an older brother.
When I was carrying the book around with me, I thought of lending it to my nephew to read, because he's twelve too and judging from the video games he plays, I thought he might enjoy it. He asked me if it was about vampires and I said yes. Then I asked, "Whose side would you take, if you had to: the side of nasty boy bullies, distant, alcoholic parents, drug dealers, an uncaring school system, or the side of a twelve-year-old vampire?"
He replied that obviously he would take the vampire's side.
The final scenes will either make you happy, or sad, or upset-depending on your interpretation of Abby's relationship with Owen, the two of them unique and lonely children. Then you'll continue to go on thinking about this movie, which I enjoyed enormously.
---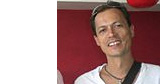 Alex Gomez is an award-winning writer. he's written numerous short stories, hundreds of non-fiction articles and two serious novels. Writing makes him happy and nothing can kill him now.

Click HERE to read more articles by Alex Gomez.