Health & Beauty
Salvation: Cuba's International Medical Brigades

Stephen Salaff & Stavros Preketes - Activist Magazine
go to original
January 02, 2011

Che Guevara, MD, recounts his Latin American journies:

"After graduation [from medical school] I began to travel throughout America, and I became acquainted with all of it …I came into close contact with poverty, hunger and disease, with the inability to treat a child because of lack of money; with the stupefaction provoked by the continual hunger and punishment … I began to realize at that time that there were many things that were almost as important to me as becoming famous for making a significant contribution to medical science; I wanted to help those people;" from "A Meeting with Che Guevara," by K. Gajendra Singh, Global Research.ca, 14 June 2008.

Cuba's substantive dedication of humanitarian medical emergency aid to Haiti upon the disastrous 12 January 2010 magnitude 7 Port-Au-Prince earthquake followed 50 years of planned Cuban healthcare and first-response commitment internationally and across the global south.


Cuba had over 400 well-trained doctors on the ground in Haiti hours after the earthquake, said Cynthia McKinney, former multi-term representative in Washington from Georgia. McKinnney reported that Cuba was already dispatching more doctors.


Stone Mountain, Georgia, a city and geological park in McKinney's Congressional district east of Atlanta, inspired one of the ascension metaphors in Martin Luther King's 1963 " I Have a Dream" speech.


Reinforcing McKinney, journalist and author Naomi Klein condemned Washington's manipulative programs in Haiti, like those she studied earlier in US shock doctrines fomenting extra suffering in New Orleans after hurricane Katrina.


Havana daily Granma reported from Port-Au-Prince on 18 January 2010 that "Chilean, Cuban, Spanish, Canadian and Mexican specialists were working shoulder to shoulder... all speaking the same language: that of salvation."


During a recent Canada visit, clinical neurophysiologist Dr. Joel Gutierrez (far left in photo below) of the Cuban Institute of Neurology and Havana Medical University explained Cuba's healthcare and disaster relief efforts to The ACTivist.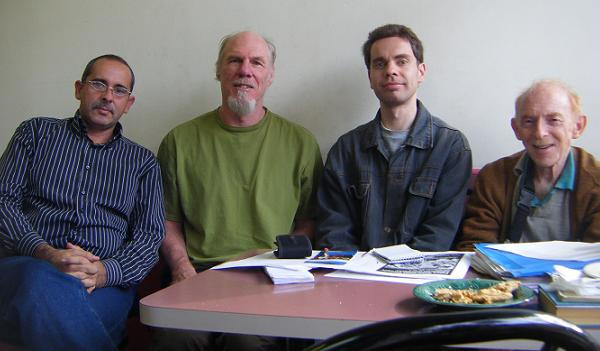 Dr. Joel Guttierez, left, with Bill Howson of Toronto Forum on Cuba, Stavros Preketes and Stephen Salaff.

At age 43, as an experienced clinician and international traveler, Dr Guttierez led international courses on electrodiagnosis for neurologists during 1999-2005 in Colombia, Mexico and Venezuela. He recently embarked on exchange visits in this field with leading Canadian hospital neurology services, including Toronto Western Hospital. Gutierrez attended the annual meeting of the American Association of Neuromuscular and Electrodiagnostic Medicine in Quebec City, 6-9 October 2010.


Dr Gutierrez emphasized the stability of Cuba's dedication to Haiti, and noted that Cuban longterm medical assistance, which began prior to the earthquake, included training numerous Haitian healthcare practitioners at ELAM (Escuela Latinoamericana de Medicina, Latin American School of Medicine) in Havana - www.elacm.sld.cu.


"We will be here when all the others have gone," Dr Carlos Alberto Garcia Dominguez, heading Cuba's emergency medical mission to Haiti, told the Buenos Aires, Argentina newspaper Pagina 12 on 4 February 2010.


Guttierez told Activist that Cuba targeted early internationalist medical assistance on Algeria in 1963.


Algerian review El-Djazair, and Radio France International recently described Cuba's pathbreaking solidarity with Algeria, when the 1963-1965 Ben Bella regime sought medical care in Havana for severely wounded fighters of the Algerian National Liberation Front (FLN), and requested Cuban armed assistance to repel threats to Algeria's first post-colonial government.


CUBA AND THE UNITED STATES


Dr. Gutierrez confirmed media reports that the US military had interdicted airports in Port-Au-Prince after the earthquake, restricting Cuban and other international aircraft flying personnel and supplies into the city.


Dr Joel reiterated that Cuba also offered major medical help and relief to the survivors of 2005 Hurricane Katrina which devastated New Orleans in 2005. "The US government ignored our offer to help, when Fidel Castro assembled relief supplies and scores of trained emergency personnel at the Coliseo de la Ciudad (City Sports Coliseum) in Havana, ready for airlifting into southern USA," said Dr Guttierez.


President George W. Bush's new memoir Decision Points, which appeared in Toronto bookstores on 9 November 2010, devotes an entire chapter, pp 308-332, to the August 2005 hurricane Katrina tragedy, one of Bush's "decision points." Bush writes:


"Winds above 120 miles an hour had flattened the Mississippi coastline and driven a wall of water through the levees of New Orleans. Eighty percent of the city, home to more than 400,000 people, had flooded. Reports of looting and violence filled the news …By the time the damage had been tallied, Hurricane Katrina ranked as the costliest disaster in American history," George W. Bush, Decision Points (New York City: Crown Publishers, a division of Random House, Inc., 2010) pp 308-309. ISBN 978-0-307-59061-9


Flying in Air Force One over the Gulf Coast on 31 August 2005, Bush observed "New Orleans was almost totally submerged. In some neighborhoods, all I could see were rooftops peeking out from the water. The Superdome roof had peeled off. … This must be what it looks like when a nuclear bomb explodes, I thought." (p 318)


Bush deplored the grossly inadequate US emergency response, leading to enormous personal distress: "I was as frustrated as I had been at any point in my presidency…" (p 321)


Noting that New Orleans was a largely African American city, Bush self-consciously quoted Jesse Jackson's metaphoric comparison of the New Orleans convention center in the hours and days after Katrina's landfall to the "hull of a slave ship," and quoted also an allegation from the Congressional Black Caucus that if the hurricane victims had been "white, middle-class Americans" they would have received more help. (p 325)


Bush does not mention Cuba's offer to assist the people of hurricane-ravaged New Orleans, and does not even index "Cuba" in Decision Points.


However, on page 469, Bush lauded his collaborator Carlos Gutierrez for Gutierrez's advocacy of "freedom in Cuba." The ultra-right New York Daily News exulted on 20 February 2009: "Former Secretary of Commerce Carlos Gutierrez, who served in President George W. Bush's administration will "work with the Cuba Business Roundtable that recruits companies interested in doing business with . . post-Castro Cuba."


Activist interviewee Dr. Joel Gutierrez said that many of the Cuban first-responders proposed by Fidel Castro to President Bush were ultimately sent to aid Pakistan upon its major 2005 earthquake.


Dr. Gutierrez sent us an official list of selected Cuban emergency aid missions 1960-2008: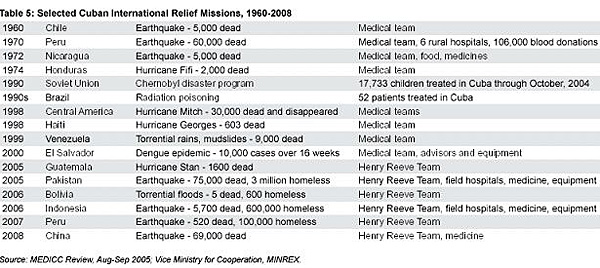 The Canadian Network on Cuba's "Cuba for Haiti" fundraising campaign supports Cuban medical relief in Haiti - www.canadiannetworkoncuba.ca.


Prof. Keith Ellis of the network said "The campaign sends to Cuba every penny of the money we collect, deducting not one cent for expenses." Ellis added: "Our experience with regard to hurricanes affecting Cuba is that Cuba knows how to multiply the value of any donation it receives. We believe that because of Cuba's unsurpassed humanitarian work in Haiti and elsewhere and because it has the skills and the organization to carry out that work particularly in the essential area of public health, we cannot help Haiti more effectively and economically than by donating to the Cuba for Haiti campaign."
Tell a Friend
•
Site Map
•
Print this Page
•
Email Us
•
Top