News Around the Republic of Mexico
10 Journalists Slain in Mexico in 2010

John MacCormack - Hearst Newspapers
go to original
January 02, 2011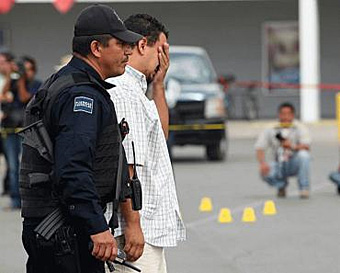 A relative of victim Luis Carlos Santiago visits the parking lot in Ciudad Juarez where the photojournalist was gunned down in September. Some American media outlets have stopped covering Mexico. (AFP/Getty Images)
Ciudad Juarez, Mexico - Always a dangerous place to be an aggressive reporter, Mexico in 2010 became a killing ground, with 10 reporters slain and several more reported missing.


"This year has been the worst in Mexico, as the self-censorship there has increased as dramatically as have the murders of journalists," said Ricardo Trotti of the Inter American Press Association in Miami


Since President Felipe Calderon took office in 2006, at least 35 Mexican journalists have disappeared or been killed, according to the Committee to Protect Journalists in New York, and none of the cases has been solved.


Many more journalists have been threatened, beaten or kidnapped. At least four are seeking political asylum in the United States, citing death threats.


Countless others, faced with the devil's choice of plata o plomo (silver or lead), simply have been silenced, choosing self-censorship over death. And there is nothing subtle about the proposition.


"I was picked up in 2004 by an armed group and spent an hour with them. They told me to stop publishing certain things, to stop writing about them, which is why the word Zeta (a drug cartel) has not appeared in our paper since then," said one Mexican editor who did not want to be identified, even by region.


One result is the withering of reliable local reporting about narco violence in vast areas of the country, undermining an already fragile Mexican democracy and leaving many citizens distrustful of the press and forced to look elsewhere for information.


"There is a loss of prestige and credibility with the public because they think we are sellouts. In many occasions it is true, but not in all cases. They don't understand the danger," said a journalist from Reynosa, where things are worse than in Ciudad Juarez.


In March, after the violent split between the Zetas and Gulf Cartel in Tamaulipas, attacks on journalists in Reynosa escalated.


Foreign and national reporters were chased out of town. One local reporter was beaten to death and a half-dozen others were kidnapped, with several never reappearing.


As the Mexican drug cartels rapidly morph into broad-based criminal organizations that seek to control everything - including the police and government - in territories they dominate, the press dynamic has changed.


In parts of Tamaulipas state, the mafias are the de facto operating bosses, dictating what is published and using the papers as propaganda outlets.


In mid-October, for example, the afternoon paper La Tarde in Nuevo Laredo published gruesome photos of a decapitated woman on the explicit orders of the Zetas, according to an informed source.


The murdered woman allegedly had complained to authorities about one of the Zeta leaders, and she quickly became a very public example of what happens to those who speak out.


The violence has caused some American media outlets to stop covering Mexico.

Tell a Friend
•
Site Map
•
Print this Page
•
Email Us
•
Top