News Around the Republic of Mexico
Mexican Military: Suspected Drug Cartel Leader Arrested

Nick Valencia - CNN
go to original
January 06, 2011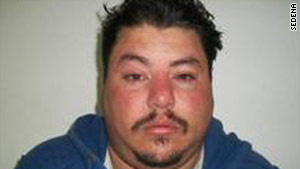 The Mexican military said it arrested Jesus Isreal de la Cruz Lopez, alias "El Tomate."
A suspected leader of a Mexican drug cartel was arrested in Tijuana, Mexico, along with four other alleged cartel members, the Mexican military said.


Jesus Israel de la Cruz Lopez is believed to be a leader in the Sinaloa cartel, Mexico's largest drug mafia, which took a strong interest in the region after recent arrests of a rival cartel's leadership.


In a news release Wednesday, the Mexican military said it arrested Cruz Lopez, alias "El Tomate," and confiscated six packages of marijuana weighing about 65 kilograms, several guns and a GMC truck with Mexican plates.


Last January, Teodoro Garcia Simental, a top leader for the Tijuana cartel, was arrested in La Paz, California. Garcia was a top lieutenant for the Tijuana cartel until he defected to the rival Sinaloa cartel after a power struggle.


Mexican President Felipe Calderon has touted Tijuana as an example of a success story against the drug cartels in his war on organized crime. However, a Tijuana police spokesman said recently that there has been a resurgence of drug cartel activity in the coastal city.


U.S. authorities discovered about 30 tons of marijuana in November that were part of a smuggling operation using a tunnel under the California-Mexico border.


The 600-yard tunnel - which featured a rail system, lighting and ventilation - connected a warehouse in Tijuana to one in an industrial area of San Diego.

Tell a Friend
•
Site Map
•
Print this Page
•
Email Us
•
Top