News Around the Republic of Mexico
Calderón to Envoys: Improve Nation's Image

Lauren Villagran - Dallas Morning News
go to original
January 09, 2011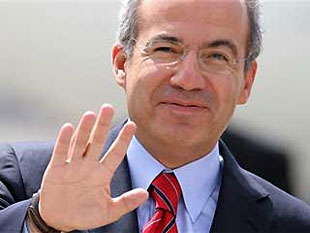 President Felipe Calderón
Mexico City – Mexico needs to smooth its image abroad by emphasizing its successes in the war on drugs, its efforts to strengthen the rule of law and its improving economy, President Felipe Calderón told a group of several hundred ambassadors and consular officials.


"I'm not saying we should deny there is a problem, but it's also important for you as ambassadors and consuls to put things in perspective," Calderón said.


In the U.S., consular officials are bracing for what promises to be a tough year for migrants as rhetoric against illegal immigration grows louder.


A rash of proposals for tougher immigration laws have diminished hopes for changes in 2011 that would resolve the legal status of millions of Mexicans living in the U.S. Some analysts say Mexico's deteriorating image – the result of a four-year drug war that has left more than 30,000 dead – has helped fuel sentiment against illegal immigration.


Mexico's ambassador to the U.S., Arturo Sarukhan, told the gathering that Mexico would use "all its diplomatic resources to guarantee that, whatever the immigration status of our compatriots, they are respected."


Many Mexicans are hunkering down, especially in states where the chorus against illegal immigration is particularly strong, such as Arizona, Georgia and South Carolina , according to Clarissa Martínez De Castro, director of immigration at the Washington-based National Council of La Raza.


"The risk for immigrants and for Latinos in general is as these proposals advance, their proponents use them to stir up anti-immigrant sentiment, which creates an environment in which Latinos are regarded as suspect regardless of their status," she said.


Texas, she said, is something of a wild card.


"There are some very strident voices that are going to push very hard for some of these measures," she said. "It's going to be a real test for Texas."


The Mexican government, meanwhile, is on the defensive, given the troubles that Central American migrants face in Mexico as they work their way north.


The danger that migrants face in Mexico "complicates our argument for an immigration system that is orderly, secure, legal and respects human rights," Sarukhan said. He emphasized that in Mexico it is "organized crime" that is threatening migrants.


Mexicans living illegally in the U.S. are confronting an onslaught of proposed laws that aim to further criminalize their presence or deny their children citizenship. Several proposals follow the lead of Arizona's new law, which gives police the right to question detained people about their legal status.


At the same time, deportations are up sharply from five years ago. U.S. Immigration and Customs Enforcement reported 392,790 deportations in the fiscal year that ended Sept. 30, compared with 180,189 in 2005.

Lauren Villagran is a freelance reporter in Mexico City.
Tell a Friend
•
Site Map
•
Print this Page
•
Email Us
•
Top