News Around the Republic of Mexico
How Once-Feared Mexico City has Become the Country's Safest Spot

Nacha Cattan – Christian Science Monitor
go to original
January 03, 2011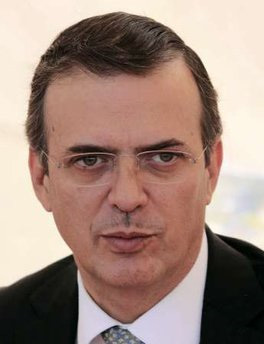 Mexico City Mayor Marcelo Ebrard listens to journalist's questions during a news conference at his Mexico City office December 22, 2010. Ebrard is favoured to represent the leftist Party of the Democratic Revolution (PRD) in the presidential race. (Reuters/Felipe Courzo)
Mexico City – Benilde Alvarez shut the lights and locked herself and her young daughters in their bedrooms. The machine gun fire from a shootout could be heard all night near their home in Morelia, Michoacán about four hours west of Mexico City. By the next morning Ms. Alvarez had decided to move her family from the drug-torn city where she'd been raised.


But Alvarez did not follow the lead of other families who have sought refuge from drug-related violence by heading to the United States. The mother of three picked up and went to Mexico City – a place once thought to be among the most dangerous in the country. With the rise of gruesome massacres and public shootouts that have put civilians in the line of fire, Mexico City has become an unlikelyoasis for some hoping to escape the drug war.


"People say Mexico City is terrible, terrifying," Alvarez says. "But the truth is right now we are safer in Mexico City than over there [in Morelia]."


The perception that Mexico's capital city of 20 million people has sidestepped the most dangerous drug crimes persists even as it remains notorious for kidnappings and armed robberies.


Mexico's comparatively lower crime rates


Mexico City's government chalks up its mended reputation to lower crime rates, saying kidnappings have come down 26 percent since 2009. But even by its own figures, injuries from firearms rose over the same period by 21 percent and murders by 7.4 percent.


Compare that with the skyrocketing homicide rates in places like Ciudad Juarez – which almost doubled since 2008 to 3,000 this year – and it's no wonder Mexico City retains allure. Nationwide, kidnappings have tripled over the past five years, according to a study by Mexico's lower house of Congress. Drug-related crimes have claimed over 30,000 lives in the past four.


Mexico City has begun to reap benefits of the better statistics.


Five thousand business owners moved their wares to Mexico City in 2010 to escape extortion and other crimes that have hurt their ventures, according to Coparmex, the city's association of businesses.


Most of the businessmen fled from states along the US border, says Coparmex head Juan De Dios Barba. Half of the 5,000 were returning to Mexico City after having abandoned the capital when it was considered unsafe in past years, when the city registered a loss rather than a net gain of businesses, Mr. Barba says.


Tourism in Mexico City has also improved – more than recovering from the devastation caused by swine flu. Hotel occupancy grew 9 percent this Christmas season over last December, helped along by conventions that switched venues from other areas of Mexico for the relative peace of Mexico City, the city's Tourism Ministry says. Resort towns are also bouncing back on an improved economy.


College students have transferred to Mexico City universities from places like Monterrey. The posh northern metropolis, long the epicenter of industry and commerce, was overrun by drug lords earlier this year who targeted campuses and shut down the city at will using roadblocks.


Close to 300 students at the Monterrey Institute of Technology and Higher Studies – Mexico's MIT – switched to campuses in Mexico City, as well as other calm spots like Guadalajara and Puebla, says Alberto Bustani Adem, outgoing rector of the Monterrey campus.


"Many students have told me that they feel safe," Mr. Bustani says. "But their parents…what they hear and see in the media, it worries them."


Security make-over?Mexico City's government says it has avoided the worst of the violence thanks to a strong police presence, including over 70,000 beat cops.


Mexico's highly centralized government converges in the capital city, where army, navy, and federal police headquarters help deter traffickers from engaging in street battles, said Miguel Angel Mancera, the city's attorney general. The capital also boasts a unified police force under one command. President Felipé Calderon has been pushing to bring such a model to states where scattered and underfunded municipal police are often outgunned by cartels and left vulnerable to bribes. The city's mayor, Marcelo Ebrard, told a crowd of police officer earlier this month that they must do all they can to keep drug violence from overrunning the capital.


Or a matter of geography?


But some security experts say the lack of mass murders and grenade attacks in Mexico City has more to do with geography than the police force, which is still grappling with corruption. The landlocked city is nowhere near a border or a port, keeping Mexico City off the major drug routes, said Javier Oliva, security expert at Mexico's National Autonomous University. The cocaine smuggled through the capital's international airport is insignificant compared to drugs flown into remote landing strips or shipped from secluded marijuana fields, he said. The sheer number of residents also tends to mask the extent of the violence, analysts say.


With the exception of Monterrey, the other major metropolitan areas in Mexico -Guadalajara and Puebla - are considered relatively safe. Experts warn that isolated bloodshed – such as the murder of a family of five and a firefight that left six youths dead in the dicey Tepito neighborhood in October, could be signs of trouble ahead. And the greater metropolitan area surrounding Mexico City has been the site of brutal cartel murders and widespread protection rackets, where school teachers are forced to pay fines or risk attacks against their students.


For now, the newly paved streets of Mexico City's historic center are crammed with holiday shoppers idling outside ice cream parlors and lining up at ATMs. Bars are full into the late hours. Back in Morelia, Maria Corinthia Alvarado, no longer goes out to clubs due to a self-imposed curfew. "Unlike other places, we haven't gotten to the point where we can no longer do what we want," Mancera, Mexico City's attorney general, said. "You can go to the movies any time you choose, even to a midnight show."

Tell a Friend
•
Site Map
•
Print this Page
•
Email Us
•
Top