News Around the Republic of Mexico
Teenagers Shoot It Out With Mexican Police

Associated Press
go to original
January 06, 2011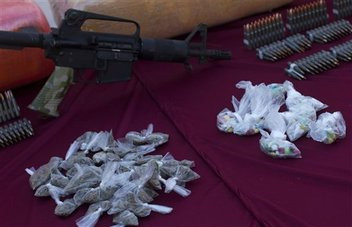 Weapons and drugs are displayed during a presentation for the media in Tijuana, Mexico, Wednesday, Jan. 5, 2011. According to the army, weapons and drugs were seized and Jesus Israel de la Cruz, aka "el Tomate", an alleged member of the Sinaloa drug cartel, was detained during a conjoined operation with police in Tijuana on Tuesday. (AP/Guillermo Arias)
Villahermosa, Mexico — A gang of teenagers, most 15-years-old, were detained after a running shootout with officers in the border city of Ciudad Juarez, officials said Wednesday, part of a trend of ever-younger drug suspects.


Police found packages containing 10 pounds (4.5 kilograms) of marijuana and a .45 caliber pistol in the pickup truck the youths were traveling in.


The five teenagers - three 15-year-olds and two aged 17 - were speeding and tried to escape, pumping several rounds into a police car and leading police on a chase for several blocks in Ciudad Juarez before they were caught, federal police said in a statement. Their names were not released because of their ages.


The government has increasingly detained youths under 18 for drug-related crimes. Last month, authorities arrested a 14-year-old boy who they alleged worked as an assassin for a drug gang in central Mexico.


And in the Gulf coast state of Tabasco, police reported that two men dressed up in clown costumes had been found executed in the city of Cardenas, Tabasco.


The two men, both aged 18, worked as itinerant clowns soliciting tips from passengers aboard passing buses. Their bodies were found Sunday on a roadside next to a hand-lettered sign that accused them of being police informers.


The bodies had multiple bullet wounds.


"This is what happened to me for being a snitch and an informer, and believing the army could protect me," read the sign.


And in the border city of Tijuana, the Mexican army announced Wednesday it had detained the local operations leader for the Sinaloa cartel, Jesus de la Cruz Lopez, alias "The Tomato."


Gen. Gilberto Landeros, commander of the Second Military Region, said the suspect's brother was detained and led soldiers to De la Cruz Lopez on Tuesday. De la Cruz Lopez is suspected of ordering the killing of several Tijuana police officers, and faces drug trafficking, organized crime, kidnapping and homicide charges.


Three other suspects, four rifles and four pistols were seized at the house where he was arrested. Tips from that raid led soldiers to seize a small airplane loaded with marijuana at a nearby airstrip and arrest the pilot of the craft.


The top Sinaloa leader in Tijuana, Teodoro Garcia Simental, alias el Teo, was arrested on Jan. 12, 2010.


And in the Caribbean resort city of Cancun, authorities reported Wednesday that five inmates - including a Colombian man sentenced to more than 20 years for smuggling a ton of cocaine into Mexico aboard a boat - had escaped.


The inmates' representatives had apparently presented false release orders to guards on New Year's Eve.


Prison director Jorge Mendoza Arguelles said the escape is being investigated, adding that "there was collusion among authorities, both in the court and apparently in the judicial office of the jail," because the release orders were obviously falsified.


And in the Pacific coast resort city of Acapulco, police reported Wednesday they had found the bodies of three men tossed into a sewer. State police said the victims had been shot in the head and in the chest.

Tell a Friend
•
Site Map
•
Print this Page
•
Email Us
•
Top