Business News
US Truckers Oppose Allowing Long-Haul Mexican Trucks

Linda Russell - KY3 News
go to original
January 09, 2011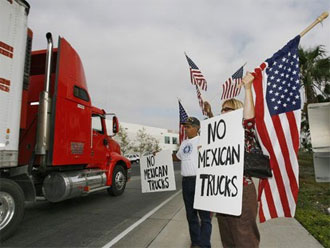 Members of the Minuteman Project protest at the Otay-Mesa border checkpoint September, 2007.
The Obama Administration is raising the ire of trucker drivers across the country, by proposing opening U.S. roads to Mexican trucking companies. The proposal would allow long-haul Mexican trucks to move cargo into the United States. It's something for which Mexico has been pushing but local American truckers strongly oppose.


Right now, Mexican trucks travel a very limited distance across the border.


"I see them all the time when you go down to Laredo and get close to the border. They come over. They pick up our loads. They bring them back across," said truck driver Dustin Walensky of Aurora.


A new proposal by the U.S.Department of Transportation would allow long-haul trucking by Mexican companies.


"Frankly, I think there will be corporate support for this, because they look for cheaper ways to do things, but I think at a time when we've got unemployment now, and we want to allow Mexican trucks to come in across this country at a time when we've got warehouse workers and truck drivers that are out of work, I think it's a terrible proposal," said Jim Kabell, secretary/treasurer of Teamsters Local No. 245.


Kabell says teamsters freight workers have had unemployment rates as high as 50 percent during the recession, and many are still out of work.


"It takes away work from me, an American, because they're taking my load that I would be driving up to Nebraska or Kansas, or wherever," said Walensky. "So why's he giving them my load, my money, my work?"


Another issue is safety. The proposal calls for safety audits, emissions standards and driver background checks, but those in the U.S. trucking industry say the trucks that they've seen could not be safe.


"Their safety standards are not nearly as rigid as those in the United States," said Kabell.


"Their trucks are barely held together. They're older; a lot of the old cab-overs they take over and they fix up, but they're not fixed up; they're dangerous," said Walensky.


"I would ask that people here in this country talk to their congressmen about protecting American jobs, about protecting American safety on the highway. It's my wife and my children and my grandchildren on the road, and it's all of theirs as well," said Kabell.


The proposal comes after legislation signed in 2009 ended a pilot program begun in 2007 that allowed a limited number of Mexican companies to haul freight beyond a 25-mile zone. Mexico has protested the lack of access as a violation of the North American Free Trade Agreement.


The U.S. Chamber of Commerce applauds the proposal. Mexico is evaluating it, and it could take months to reach a final agreement.

Tell a Friend
•
Site Map
•
Print this Page
•
Email Us
•
Top