El Dorado Restaurant is a historic landmark built in 1961 before bridges enabled diners to head south over the Río Cuale in taxis. Through the years it has delighted hundreds of thousands of visitors, some using the beach chairs, tables and small palapas for a sun-filled day.
Now, it has been remodeled and brought into the 21st century. Five adjoined palapas have replaced the old frame ones. Recessed lighting and a very good sound system add to the colorful bar. A large open kitchen is a fun spot to stop and watch various dishes being prepared and plated. Views from the open-air inside overlook the bay, shoreline, tumbling waves and energetic beach activity. There is daily beach service and nightly dinner seating on the sand.
Stewart Haverlack, operating partner, made his name via Boca Bento, first on Basilio Badillo in the former 180 and then later in Mismaloya at Casa Iguana. When the latter sold, he needed an outlet for his talent, chef, and with a number of partners, decided upon this site for their new creative vision for Playa Los Muertos.
We were fortunate to sample some of the top signature dishes here. First arrived Crab Cakes with pickled cabbage and horseradish remoulade. There was no wondering where the meat was since the filling was chunk full of crab in a light binder, then fried golden brown. Several plates would provide a fine dinner.
Fish Chicharrones with Mexican salsa Mulata, avocado and tomatillo and small homemade corn tortillas were astoundingly delicious. The fish nuggets were very fresh and sweet, not overcooked, so the fish flaked apart in moisture.
A pleasant surprise not offered very often locally was a Trio of Ceviches: tuna and jicama, dorado and pineapple and Vallarta's classic version. We could not decide which recipe we liked the best; rather enjoyed all three with their contrast in flavors and textures.
Duck Carnitas made from slow-cooked confit with ginger pico de gallo, fresh flour tortillas, crispy duck skins, scallions and plum sauce arrived next. This is a classy Asian dish but here the chef accents it with Latin flavors. Often found on Asian menus around the globe, here they differed slighty with the alternative seasoning.
Achiote Miso Marinated Sea Bass with sticky rice, cilantro chard sauce and sautéed zucchini squash represented the fusion of Asian and Latin cuisines and was a strong highlight. The fish was succulent and quite moist with a fine dusting of the powdered spices.
Passion Fruit Soufflé with passion fruit sorbet in a pastry shell cup proved to be a refreshing digestive after a dinner full of various intense flavors. Then followed "Chocolate Temptation" with sesame seed ice cream, tapioca and coconut jelly with thyme sabayon; fresh coconut swirls garnished the top providing color, texture and flavor delights.
Located at Pulpito #102 on Vallarta's favorite beach, Playa Los Muertos, El Dorado is a great place for diners to sample smaller plates, passing and enjoying more variety than one would with a single plate entreé. Once you've visited, I'm sure you will add it to your list of must-visit restaurants in Puerto Vallarta.
---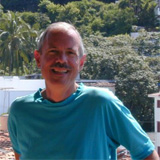 After 20 years in the San Francisco restaurant business, Gary R. Beck turned his attentions to cooking, dining out, creating recipes and exploring Puerto Vallarta's rich array of eateries. Famous for his restaurant guide, available online at CafePress.com or Lulu.com, Gary also writes restaurant reviews for Puerto Vallarta newspapers, Bay Area magazines, and now, a feature column for BanderasNews.com. Contact Gary at garyrbeck1(at)yahoo.com.
Click HERE for more articles by Gary R. Beck.