Puerto Vallarta, Mexico - This city was made a town from a village due to the movie The Night of the Iguana and the love affair of Elizabeth Taylor and Richard Burton. Life here has not been the same ever since. With her passing, not only the world and Hollywood lost a superstar, the city of Puerto Vallarta lost a dear and dedicated friend, but not in memory.
On Sunday, March 27th at the Los Arcos Amphitheater on the Malecón, the city, under direction of Puerto Vallarta Mayor Salvador "Chava" Gonzalez Resendiz, presented a salute to Elizabeth Taylor, including a young string orchestra, guitarist, dancers, poetry and remembrances from several well-known locals including Nelly Barquet and Elizabeth Taylor's godchild, renowned photographer Sergio Toledano.
On a large screen, a video documentary prepared by The University of Guadalajara of her local activities (very similar to the Elizabeth Taylor Tribute Puerto Vallarta, above) was shown. Fittingly, the pirate ship Marigalante sat offshore and blasted off a few fireworks into the black night sky.
The amphitheater was overflowing, mainly with local residents. Everyone knew the opportunities which the new fame brought to our town and attended to honor the lady and her work with local poor children by showing both love and respect. Attendees held lit candles as the spotlights were dimmed in the finale.
Muchas Gracias, Elizabeth. Vallarta will remember your beauty and your love forever.
---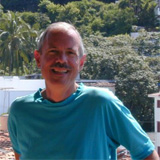 After 20 years in the San Francisco restaurant business, Gary R. Beck turned his attentions to cooking, dining out, creating recipes and exploring Puerto Vallarta's rich array of eateries. Famous for his restaurant guide, available online at CafePress.com or Lulu.com, Gary also writes restaurant reviews for Puerto Vallarta newspapers, Bay Area magazines, and now, a feature column for BanderasNews.com. Contact Gary at garyrbeck1(at)yahoo.com.
Click HERE for more articles by Gary R. Beck.